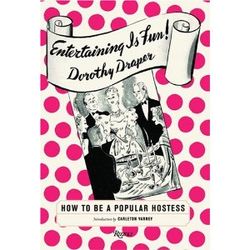 At the end of Entertaining Is Fun, her 1941 manifesto on party-throwing, famed interior decorator Dorothy Draper said:

"My conviction is that

LOVE that fulfills you,
FRIENDS who delight you,
WORK that intrigues you,
BEAUTY which enchants you,


These are the rocks to build upon for health, success and joy. These are the secret keys to making living fun."

Entertaining is Fun is less a book about glamorous living than a book about embracing life and having fun (defeating the "Will to Be Dreary," as Mrs. Draper calls it). But her life, with its country estates, many servants, and umpteen dress-up occasions was glamorous nonetheless.

In the book, Mrs. Draper's mission was to loosen up the stuffy early 20th-century definition of "entertaining." "The word sounds pompous and effortful," she opined. "I like better, 'having your friends to the house.'"

Of course, though she said, "fussy, formal parties are definitely out of style," much of her advice sounds fussy today. Her primary advice – that the hostess who wants to have a fun party must be fun herself – holds. But in 2012, having your butter pressed into shapes sounds quaint and, yes, fussy.

Much of Mrs. Draper's other advice, including a very serious recommendation that hostesses provide tons of clean ashtrays and stock "emergency rations" of canned turtle soup (among other things – she loved canned goods), is charmingly old-fashioned.

But her message – work hard to make your life fun – is as relevant today as it was in 1941. Mrs. Draper's spiritual heirs are all over the internet from the video-making Fashionably Bombed sisters to ever-rhyming glamour girl Mrs. Lilien.

Who undoubtedly would agree that Mrs. Draper was the one, who helped the World War II generation make throwing parties fun.