Somehow, Halloween has become controversial. We now have rending public debates about costumes that are too risqué, trashy, insinuating, or politically incorrect. Just last week, Walmart pulled off the shelf a (disappointingly tame) "Naughty Leopard" costume for little girls just because the word "naughty" (not the costume itself) was deemed too sexualized. And UK supermarket chains Asda and Tesco have just yanked a grotesquely deranged "mental patient" costume that supposedly disparaged the mentally ill.
But I think all the easily offended critics out there fail to appreciate Halloween as a sort of one-off, wildly fantastic carnival. It's perhaps the one day of the year when everyone—not just the cosplayers or the goths or the fetishists or pick-your-subculture—gets a free pass to dress up in an insane get-up, purely for fun. Even a costume-averse frat boy can be a campy prisoner for one night. Whatever it is, you get to re-imagine yourself as something or someone else, and it's actually acceptable to walk around in that ridiculous get-up just about anywhere—in broad daylight, at night, on a train, on a plane, in a house, with a mouse....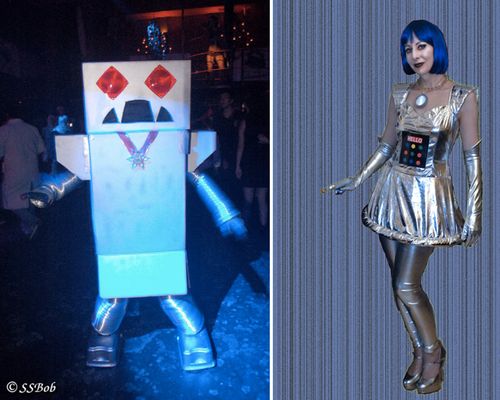 I, for one, delight in being alternately appalled at costume disasters or delighted at the mad skillz of some costumers. Heck, even the broad swath of middling costumes are fun, because we're all off on some flight of fancy for this one evening. You can be an amped up version of your true self (see: brassy wrestler Brooke Adams as "sexy [this-n-that]"), an opposite version of your true self (see: retro-pale burlesque star Dita Von Teese as blonde, super-tanned "normal girl"), something noble, something gory, something Gorey, something to merely get by at a party, or something quite transformative.
One of my all-favorites was a Robot Vampire Dracula costume from a 2011 Halloween event I attended. Made mostly from cardboard, reflectors, and hardware store supplies! (Won the costume contest, btw.)
I, myself, did a sort of robot costume for that event. Was it too trashy/politically incorrect/dare I say, naughty? Perhaps? I don't know. (The gal next to me in the costume contest wore a suggestively arranged latex bacon-and-eggs costume.) But it was definitely FUN. And, be forewarned, I might have something questionably appropriate and certainly cheesy planned for Halloween this year. (Hint: I'll venture to guess it will bring back chagrined memories for my fellow DeepGlamour blogger, Paige Phelps. See: The Rise and Fall of Sexy Halloween)

Am I offended by overly, ridicuously sexualized costumes like "sexy Bert and Ernie"? I guess so. Do I want to see that parade by me on the street Halloween night? Absolutely. But it seems to me that Halloween costumes have long had an element of the risqué or campy politically incorrect. A quick perusal of the Internet reveals skimpy pin-up costumes, "incredibly bizarre" ones, or the simply inspired of bygone years. Semi-nude, his-n-her ... popcorn & peanuts (?), anyone?