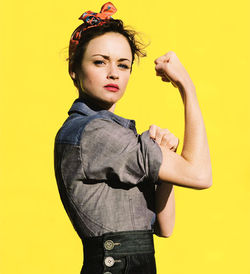 Glamour's photo spread of today's fresh young talents impersonating the dead, the old and the fictional female icons women could not be more inadvertently hilarious. It's so bad, it could be an ANTM photo shoot, and you know how silly those are. (Last night, Tyra had the hamsters dressing up as good little girls, which was just as icky as it sounds.) The copy claims:
You can do anything! That's the message of the seven decades of female risk takers, rule breakers and style makers here. We celebrate them with the help of some very-2009 young talents.
It's a toss-up as to which impersonation is the worst. As Rosie the Riveter, Alexis Bedel just looks peevish as she displays her lack of upper body strength. While I'm not so naive as to believe that she actually thought up the accompanying quote, at least it sounds semi- convincing.
But the Women of Woodstock is equally inane. Hippies and their "we can do anything" spirit? Obviously, no one at Glamour was alive then.