Joan Kron epitomizes substance with style--a combination she has turned into a remarkable career in journalism. Over the years, she has brought style to The Wall Street Journal (originating the fashion beat), The New York Times (helping to create the Home section), and Clay Felker's New York magazine (covering design). Since 1991, she's been the contributing editor-at-large for Allure, where she covers plastic surgery, the subject of her 1998 book Lift: Wanting, Fearing, and Having a Facelift, a must for anyone contemplating a cosmetic procedure. Her work displays a keen intellect, a great knowledge of both art and social science, and an unusual ability to talk shop with surgeons. We're honored that she agreed to share her thoughts with DG.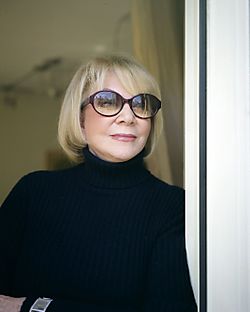 DG: In the 1980s. you wrote about interiors and the meanings people attach to their homes. What's changed since then? Have people become more house-obsessed, or do we just have more cable makeover shows?
JK: People still care deeply about their homes—as a refuge, a status symbol, and identity device. But the rash of less-pretentious home magazines and home-design cable shows has made the younger generations more self-assured about their taste. I see much less "fear of furnishing," a condition I identified in Home-Psych, my 1983 book. The pendulum has swung in the other direction, toward taste self-confidence, encouraged by some dreadful design solutions (sorry if that sounds judgmental) on home makeover shows: If you have a jigsaw machine from Home Depot, what better use for it than making empty picture frames for wall décor? Home Depot, shade warehouses, paint stores with designers on staff, Bed, Bath and Beyond, Pottery Barn, Design Within Reach, etc, are all enablers. Taste arbiters are out and DIY (with patterns we can copy) is in.
I also see a decline in traditional gender roles in home decoration. Husbands are often taking charge. I have young neighbors who are renovating, and the husband, a financier who never heard of Mario Buatta or Dorothy Draper, is making almost all the design decisions. Needless to say, media rooms and large TVs play a bigger role when men are in charge. Aside from Williams-Sonoma Home catalogue, one of the biggest design inspirations today is hotel design. Instead of What Happens in Vegas T-shirts, vacationers are bringing back decorating ideas. Forget stealing towels. Now, if they sleep well out of town, they're buying the beds from their hotels.
DG: Celebrities with bad plastic surgery are so well known that it sometimes seems as if plastic surgery never makes people look better. Can you give us some famous examples of good plastic surgery?
JK: Ironically, good plastic surgery is invisible…there's lots of it, but naming names would be an invasion of privacy. Take it from me, however: Almost everyone in Hollywood, TV, and politics (except possibly Madeleine Albright) has had some cosmetic enhancement—and they do it quietly and frequently.
DG: Is acknowledging that you've had plastic surgery antithetical to glamour?
JK: Absolutely—that's an admission that one's beauty is neither natural nor effortless.
DG: In January, you had a very public 80th birthday party, and you've been equally public about having had three facelifts. How do you respond to people who say they believe in "aging gracefully"?
JK: How one ages is a choice. It's no different from deciding how often to have a manicure or a haircut. As someone who covers plastic surgery, I feel a responsibility to be truthful, since most people lie. I joke that I prefer to "age dis-gracefully." I don't see getting rid of my double chin as a moral issue. Some people say they've earned their wrinkles, but frankly I don't care to wear my emotional resume on my face. There is no such thing as natural. I cut and dye my hair, I wear lipstick. I shape my eyebrows. I have no illusions about becoming a beauty object. But why should I give up and look like Yoda, or Jane Wyatt when she left the sanctuary in Lost Horizon (rent the movie) if I don't have to? The technology is available. I don't want to look bizarre, so I don't ask for extreme procedures. And I draw the line--for myself--at lip-filling injections. They look so phony on someone my age. I hope I don't look "done" but if someone thinks I do, I find it preferable to looking "undone." Now could you all stop staring at my face.
The DG Dozen
1) How do you define glamour?
Glamour is enchanting superiority. It appears effortless (even though it's not) and beyond the reach of mortals.
2) Who or what is your glamorous icon?
Old George Hurell photos… Lauren Bacall in Dark Passage.
3) Is glamour a luxury or a necessity?
It's a necessity—like a fairy tale or a myth that inspires and distracts from the mundane.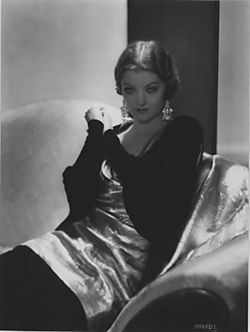 4) Favorite glamorous movie?
I was knocked out by Jean Cocteau's Beauty and the Beast when I first saw it in 1946. It seems dated when I see it now—but at the time it was magical. I copied Beauty's pearl crown when I got married, the first time. Also, Ginger Rogers and Fred Astaire "dancing cheek to cheek."
5) What was your most glamorous moment?
Landing in a private helicopter on a host's 350-foot yacht in the Greek Islands and being greeted by butlers with trays of champagne in flutes. Spending two days in L.A. interviewing Sophia Loren.
6) Favorite glamorous object (car, accessory, electronic gadget, etc.)?
I love my Treo but it's not glamorous. It's a necessity. No one needs sterling silver flatware, stainless steel would do, but I find silver incredibly glamorous. People say to me, "But you have to polish it." And I do, with pleasure. It's no different from washing your precious convertible by hand.
7) Most glamorous place?
I can't choose one. The lobby of New York's Hampshire House by Dorothy Draper, the Chrysler Building, French designer Andrée Putman's loft in Paris with the bed in the open behind sheer curtains, the Versailles Hall of Mirrors, the gardens in Last Year at Marienbad, the Parthenon, Manhattan on a summer night seen from the water. For years I was enchanted by Frank Lloyd Wright's Falling Water in Pittsburgh until I visited it and found the rooms so cramped—but as a dream house, viewed from a distance, it still qualifies.
8) Most glamorous job?
Astronaut, architect, magazine editor.
----
"Some people say they've earned their wrinkles, but frankly I don't care to wear my emotional resume on my face."
----
9) Something or someone that other people find glamorous and you don't.
I enjoy "red carpet" parades but they're more glitz than glamour.
10) Something or someone that you find glamorous whose glamour is unrecognized.
Extraterrestials
11) Can glamour survive?
There will always be mysterious superior beings or entities, but the forms as we know them, will evolve.
12) Is glamour something you're born with?
No. But it often requires a lot of stagecraft.
EITHER/OR
1) Angelina Jolie or Cate Blanchett?
Angelina
2) Paris or Venice?
Venice
3) New York or Los Angeles?
New York
4) Princess Diana or Princess Grace?
Grace
5) Tokyo or Kyoto?
Kyoto
6) Boots or stilettos?
Stilettos
7) Art Deco or Art Nouveau?
Art Deco
8) Jaguar or Astin Martin?
Astin Martin
9) Armani or Versace?
Armani
10) Diana Vreeland or Anna Wintour?
Vreeland
11) Champagne or single malt?
Only if the Champagne is French in a magnum.
12) 1960s or 1980s?
Neither
13) Diamonds or pearls?
Pearls
14) Kate Moss or Naomi Campbell?
Naomi
15) Sean Connery or Daniel Craig?
Sean Connery
[George Hurrell's photo of Myrna Loy courtesy of the Pancho Barnes Trust Estate Archive.]