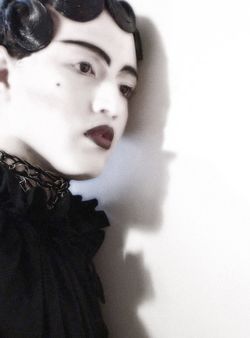 Glamour icon? London-based model, DJ, and scene-maker Alejandro Gocast is making an impressive go at that status. I first stumbled across Gocast on Facebook, as part of the revived New Romantic club scene in London that I've long admired and written about here on DeepGlamour. Arising in the early 1980s, the New Romantics represented a creative, dressed-to-impress music and style movement, post-punk, post-disco. Now, more than 30 years later, Gocast is one of a new generation of New Romantic club kids. And he cuts a spectacular image in modeling and club photos. I interviewed him exclusively for DeepGlamour.
CH: How do you describe what you do? I think of you as a model, a glamorous nightclub personality, and a DJ. But give DG a fuller picture of what you do?
Gocast: I would describe my career as an eclectic one. As well as being known for what you have mentioned in the London scene, I also have a career in luxury events management. My life is not a simple one. It can be challenging at times keeping up with schedules, appointments, club nights, friends, family—the list is endless, but then again life is for the living.
CH: Where are you from? Your Model Mayhem profile says you are from Latin America, with parents of Mexican and German descent, respectively. How old were you when you moved to Britain?
Gocast: That is one tricky question. I am actually British, although I was born in Mexico. I have lived in London since a very young age. However, my mother language is Spanish, therefore (unfortunately) I do not have the honor of speaking with an English accent. My "genetic" background has indeed German from my dad's side and Mexican from my mother's. I hope this all makes sense.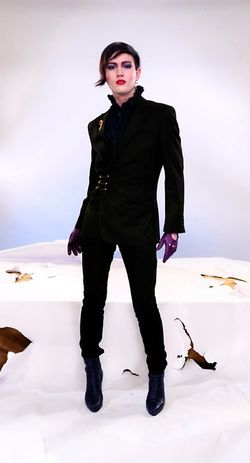 CH: You have such a distinct look, one that I would describe as exotic and androgynous. Not what most people might think of as a typical male model. How would you describe your style image? And how did you discover and develop that image? (Did you get started in the new New Romantic club scene in London, or was it some other inspiration?)
Gocast: My image definitely started in the London club scene. I used to go out to "normal" clubs and bars, but always feeling that I was not quite suitable for them, I started to look for a more arty environment and played around with different looks, which I still do. Since I have always had a thing for the New Romantic style, I decided to become "re-born" into a new way, more in sync with my inner personality and my personal opinion in life, which is a very simple one: be who you are.
CH: What are the Blitz Kids?
Gocast: The Blitz Kids were a group of young people who frequented the Blitz nightclub in Covent Garden, London in the very early 1980s and are credited with launching the New Romantic cultural movement. Among their number is a good friend of mine, Steve Strange, also Boy George and his friends Marilyn and Alice Temple, Perri Lister, Princess Julia, Philip Sallon, Carl Teper and Martin Degville (later to be the frontman of Tony James's Sigue Sigue Sputnik). The club was known for its outrageous style of clothes and make-up for both sexes, while it was also the birthplace of several pop groups. There is an official website for this, on which I actually also feature, you can visit it here.
CH: What musicians and bands are atop your current playlist? What musicians and bands are lifelong favorites?
Gocast: I have a wide range of taste when it comes down to music, and also quite extreme. I go from hardcore metal to Kate Bush. My personal music player is full of extremes. I do not really focus my attention to one artist or band. Since you asked, a few on my playlists at the moment are Garbage, JLo, Amanda Lear, Tribal House, Korn, Dead or Alive, Donna Summer, Kate Bush, Siouxie and the Banshees… see what I mean?
CH: You've worked with numerous artists and designers. Perhaps one of my favorite of your collaborations has been with Marko Mitanovski, a favorite designer of Lady Gaga. When I first viewed his fashions, I was truly astonished - they are strange and intriguing and elegant. Anthropomorphic creatures in black and white. How did you come to model for Mitanovski?
Gocast: I met Marko at one of my clubs, "THE FACE." He was a guest there, and the moment we met we knew we would be working together. It was the right chemistry and we also get along really well. It is indeed a pleasure to work with him. I can't wait for his next collection! I love his dramatic design style.
CH: Is there a designer you wear most often right now?
Gocast: I wear a lot of pieces from various artists, and it is just a question of blending and matching them to create my night-out style. I recently worked with Dane Goulding, who designed for the Spice Girls. He has some truly amazing pieces.

CH: You've been in a few fashion-art short films. I thought "The Dionysian" released in 2011 was really beautiful, and you looked darkly enchanting wearing lace and a high collar. And enormous spidery eyelashes. What was that experience like? What sort of direction were you given in the film, in terms of posing or projecting a certain image?
Gocast: This film was shot in London, in December. It was a very cold night and the director knew exactly what he wanted. Since we shared the same vision, I fit perfectly in the film. This film is going to an exhibition in Paris this year. I have worked behind and in front and the camera for a few years now, and the experience is always the same for me, exciting and always looking forward to seeing the final creation.
CH: You starred in another fashion/art film called "Perform Nijinsky," which was produced by the very talented cabaret performer Mr. Pustra. Clearly the film was something of an homage to the early 20th-century Ballet Russes legend, Vaslav Nijinsky. Can you tell DG more about that film project?
Gocast: Pustra is a good friend and I am also an admirer of his work. Together with Dorota Mulczynska, the vision of a morphed early 20th Century Ballet Russes was created into a short film, celebrating and honoring Nijinsky.
CH: Do you often do your own make up for photo shoots and club nights? Or do you more often work with a make up artist?
Gocast: For photo shoots I do work closely with Stephanie Stokkvik, a Norwegian high fashion make up artist. I have learned so much from her. If you have time, have a look for her on the net—she is amazing! When I go out, I normally "paint my face" on my own.
CH: Who is your top style icon?
Gocast: I am afraid I do not have one.
CH: When you travel around on everyday errands, to the grocery and laundromat and whatnot, how do you look and dress?
Gocast: You would not recognize me, that's all I call say. I try to go under the radar when out and about on my personal life in order to give some space to myself and my close friends and family.
CH: When you aren't working, what do you do for fun?
Gocast: I am a bit of a geek. I own a PS3 and a whole bunch of games. I enjoy also watching horror movies with friends.
CH: What is your dream vacation destination?
Gocast: My other half loves traveling, and I have been lucky to have been to and seen some amazing tropical paradises. My favorite places.
CH: Do you have favorite perfumes/colognes?
Gocast: Yes, I am currently about to finish "Un Jardin Sur Le Nil" by Hermès, and my next fragrance will be from Diptyque Paris.
CH: What are your go-to make up and skin care products?
Gocast: Any good moisturizer does, really, not any favorites in particular.
CH: What professional goals do you set for yourself? Are there particular photographers, artists, or designers you long to work with? Or, do you have something else in mind quite different from what you are doing now?
Gocast: I am shooting a few more fashion films this upcoming year and planning on starting some sketches for my own collection. However, I must keep this under wraps. I am pretty much open to work with anyone - as long as the chemistry is there, anything is possible.
CH: What are your New Years Eve plans?
Gocast: I am spending New Years Eve with a good friend of mine. She runs a club in Bricklane, from which I will also be throwing another infamous club night soon. It is a very intimate space with limited capacity, which is just what I like.
LAST DAY to enter our special Makeover Week giveaway of IntésivEye eye-makeup remover pads. Deadline is midnight Pacific Time 1/31/012. Details at the post below.