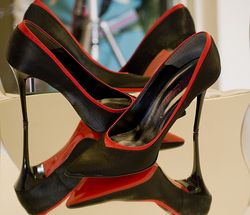 Unlike dresses or skirts or blouses, shoes hold their shape even when no one is wearing them, and therefore evoke a sense of promise. When you see a pair of stilettos on display in a department store or featured in a fashion magazine, you can imagine yourself wearing them and becoming the kind of person who lives a magical life, gliding around gracefully with no need for sensible, lace-up shoes. The fantasy just might become realizable by stepping into the shoes and inhabiting them.
Very often, what women "love" about shoes is this frisson of potentiality, of expectancy. When considering a beautiful or unusual pair of shoes, whether high heeled or not, they think: This is what I could be. If I wear these shoes I will become a new me—a better me—a me whom others will recognize as fearless and exciting. No longer will I be a woman who plods and clunks along. In these shoes I can be fun, edgy, sexy, unpredictable. Anything is possible.
Alas, as we know, the fantasy is never truly attainable. Gorgeous shoes do not lead to a carefree life, or even to the appearance of one.
—Leora Tanenbaum, Bad Shoes and the Women Who Love Them
[Photo from DeepGlamour Flickr pool, courtesy of Flickr user Dariya1. The photo's title translates "mirror of my longings."]