Dark Side Of Glamour Exposed By Mark Ebner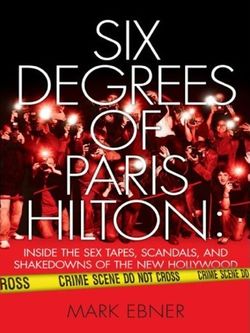 Anyone who's intrigued by the ugly side of Hollywood, and really, that's everyone I know, will want to dip into Mark Ebner's new book, Six Degrees of Paris Hilton: Inside the Sex Tapes, Scandals, and Shakedowns of the New Hollywood
.
Jerry Stahl, who's taken a couple of walks on the wild side himself, blurbs:
Most terrifying of all -- the story is true, and Ebner tells it with a ferocity and heart that will have readers panting and forgetting to wash or eat until they've clawed their way to the end.

But, then, some people will use any excuse to avoid showering.
Lowlife scum like Tara Reid, Joe Francis, and Darnell Riley populate the book, and Ebner's investigative skills leave no hot pillow un-turned.
Ebner signs in person tonight at Book Soup.