DG Contest: Skindinavia Makeup Finish Spray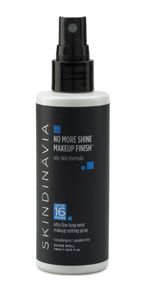 Skindinavia makeup finishing sprays set your makeup so it lasts all day, defying the weather, overactive oil glands, and whatever else might conspire to make your skin look less than its best.
For this giveaway, we're pleased to offer the winner a choice of one of three formulations: 10 Years Younger, for drier more mature skin; Moisture Lock, which hydrates the skin; or No More Shine, for oily foreheads and unwanted summer shine.
To enter, post a comment below telling us about someone you think has beautiful skin. We will select a winner using Random.org.
Entry deadline: midnight Pacific Time, June 17. Contest open only to U.S. residents of the 50 states and District of Columbia.