DG Promotion--Discount On Dirty Dancing Tickets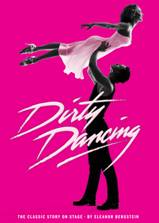 Dirty Dancing may never make any cineaste's list of best American films, but piffle to that. Who doesn't love the story of Baby and Johnny, brought together by mambo, torn apart by class warfare? And now--it's a musical!
Re-imagined for the stage by the original screenwriter, Dirty Dancing is an unprecedented live musical experience, exploding with heart-pounding music, breathtaking emotion and of course...dancin'!
Limited Engagement Begins May 8th at Hollywood's Historic Pantages Theatre
Deep Glamour readers and their friends can get a rockin' great discount (35%) on select seats when they order tickets through Ticketmaster with the special code GR35 .

(Thanks to Stacy at Allied Live for this offer, too.)