DG Q & A: Francesca Segrè
Novelist and writer Francesca Segrè, who contributes to the NY Times Vows column, answers our questions. Her novel, Daughter of the Bride
, is based on her own experience of watching her mother get married. She lives in Los Angeles with her husband and her daughter (captured at left by photographer Orit Harpaz) , and is constantly on the lookout for a good love story.
DG: For most women (and even some men), the wedding day is the single most glamorous event in their lives. What are your thoughts? Is glamour attained at the expense of romance, family feeling?
FS: Today's slothful and pragmatic society has stooped to accept velour sweat-suits as 'style' and weddings, thankfully, provide us with an excuse to get dressed up and get glam.Brides, grooms, and guests seize the opportunity of nuptials to reveal what they really look like when they kick off the daily glamour-proof sneakers of practicality. Of course, the bride has probably spent more money on her appearance for this day than for any other day in her life. But beware! Money does not buy class. Ahem, Paris Hilton. If you're trashy, nasty or a raging Bridezilla, no lipgloss, silk chiffon or orchid arrangement can make you or your event glamorous. It's all in the attitude.
DG: What's the most important part of wedding day glamour? The dress, the mood, the true love?
FS:Wedding day glamour depends on the aura of the bride and groom. Ultimately, the newlyweds are hosts. If they are sincere, gracious and emotionally committed to one another, it will be apparent. They will act as one entity putting the guests at ease. For all the compliments the newlyweds receive, they will respond with equally sincere flattery. It's not about the gown - it's about how she wears the gown, how she smiles in the gown, how he is a gentleman – lifting the train of her gown or holding her hand so she can move freely.
DG: After the rice has been swept up, how to sustain that glamorous feeling and mood--not just for the honeymoon, but all through your life? Any tips ?
FS: Oh, that's tricky. I've been married for two years now, and it's easy to get sloppy – especially when my husband-o compliments me while I'm looking my worst. Often, when I'm leaning over the sink washing dishes, wearing pink gloves, ratty pajamas and no makeup, my husband lightly slips his arms around my waist. If he likes me this way, do I really need to dress up? When we met, I was an on-air international TV news reporter in Manhattan. I was polished -- tailored suits, heels, styled hair and impeccable makeup. Now we live by the beach in Los Angeles, and more outfits than I'm proud to admit end in the two words, "with flip-flops."
To maintain glamour in a marriage, we try to be as gracious with each other as we were on our wedding day. "Please," "thank you," and opening a door for each other suggests a mutual respect that is so elegant and classy. As far as I'm concerned, there is no glamour without manners. Now that we've got a shrieking, explorative, glorious one-year old daughter, going out at night requires a whole new level of logistical gymnastics. The last time we had a date, we went to the Avalon Hollywood for a comedy show benefit. We knew we'd be a tad overdressed for the occasion, but we were dressing for each other. I was wearing a dress (no jeans- gasp!) and he was wearing a corduroy blazer on top of his dress shirt (that's two dress-up garments on one LA man!) We've got to prove that we can always pull it together for one another. In marriage, it's so easy to slip out of style.
(photo by Orit Harpaz)
The DG Dozen
1) How do you define glamour? Glamour is self-confidence. She who is self-possessed, thoughtful in her choices, and graceful in her personality and appearance is glamour incarnate. If the execution of these character traits appears effortless, she is all the more glamorous. Just think about the models in the Ralph Lauren ads, or any ads in a glossy mag. These men and women never appear to be trying very hard. They just seem light, comfortable, and relaxed in their thousand dollar frocks.
2) Who or what is your glamorous icon? My grandmother. She escaped from France during WWII and came to New York. She didn't know English, but she had an exquisite artistic eye, a sensational sense of style and a gift for designing and wearing great clothing. One morning, she waltzed into Saks Fifth Avenue with sketches of her Paris-inspired suits and gowns in hand. At the time, Americans had no idea what the French were wearing (rags) and my grandmother convinced the buyers at Saks that her designs were the most au courrant mode in France. That day, she launched her decades-long career as a fashion designer when she made an exclusive deal to sell Saks her designs. She dressed impeccably every day of her life.


3) Is glamour a luxury or a necessity? Clearly a luxury. Glamour is special because most people don't have it.
4) Favorite glamorous movie? Roman Holiday
, anything Audrey Hepburn
5) What was your most glamorous moment? Interviewing Jamie Rubin during the Democratic Convention in 2004. I was in the risers next to the main outdoor convention stage. The lights and camera were on me and this powerful, intelligent, exceedingly handsome former Assistant Secretary of State was answering questions into my microphone for live TV. It was exhilarating.
6) Favorite glamorous object? My novel, Daughter of the Bride
. People think it's pretty glamorous that I wrote a book.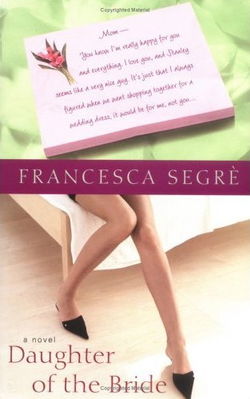 7) Most glamorous place? Monaco. Or Lago di Como in the Italian Alps. Both are dramatic, exciting playgrounds that James Bond frequents.
8) Most glamorous job? TV reporter for Reuters in New York. My face was on one of those jumbo-tron screens in Times Square!

9) Something or someone that other people find glamorous and you don't? Those fluffy, miniature rat dogs. And hand bags with logo prints on them. Those logo prints like the Goyard are ugly. They might as well print dollar signs on those bags. Tacky.

10 skipped

11) Can glamour survive? Yes. Even with the current American financial collapse, glamour will survive. It becomes even more rarified. Glamour is timeless.
12) Is glamour something you're born with? No. It's clearly learned. Manners + style.
EITHER/OR
1) Angelina Jolie or Cate Blanchett? Angelina. I interviewed her. I was stunned by her beauty. I complimented her. She returned the compliment. Class act.
2) Paris or Venice? Paris. Venice is tourists, trinkets, and stinky canals. Paris is timeless inspiration- the source of art and style.
3) New York or Los Angeles? So New York. In LA, unless you're on the red carpet, you're in flip-flops.
4) Princess Diana or Princess Grace? Grace. Diana was too commercial.
5) Tokyo or Kyoto? Kyoto. It's graceful and artistic and it has fewer vending machines (than Tokyo does) selling schoolgirls' underwear.
6) Boots or stilettos? Stilettos are most glam – boots are practical. (I wear boots.)
7) Art Deco or Art Nouveau? Oh that's tough. I have to say Deco, the lines are cleaner.
8) Jaguar or Astin Martin? Astin Martin. Glamour requires a joie-de-vivre, not stuffy formality.
9) Armani or Versace? Armani. Armani is classy, Versace is flashy.
10) Diana Vreeland or Anna Wintour? Wintour has a reputation for being nasty. Nasty is not classy.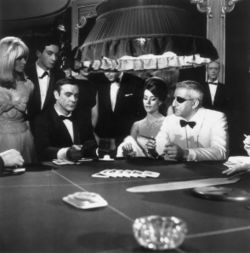 11) Champagne or single malt? Single malt - because it's more rarified.
12) 1960s or 1980s? neither. 1920s.
13) Diamonds or pearls? Diamonds, though their controversial origins dull the glitter. Pearls are classy – but they add 10 years to anyone wearing them.
14) Kate Moss or Naomi Campbell? Campbell. Moss's status for being skinny does not strike me as elegant.
15) Sean Connery or Daniel Craig? Sean Connery. Can't get better than the original Bond.