DG Q&A: Carmindy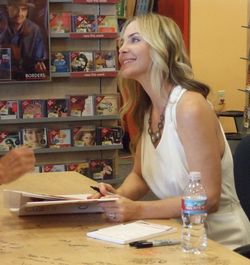 During last year's book tour for The 5-Minute Face: The Quick & Easy Makeup Guide for Every Woman
, makeup artist Carmindy of TLC's What Not to Wear answered questions from women all over the country. She was disturbed by what she heard. Instead of asking how to highlight their assets, most women launched into a list of self-denigrating complaints about how they looked. "I'd meet a woman who had beautiful skin and I would say, 'Gosh, you have such beautiful skin.' And she's say, 'Oh I'm breaking out and my pores are so big and I hate my lips. I want you to teach me how to make mine look so different.'" To fight such negative attitudes, she wrote another book, which she calls her "manifesto," Get Positively Beautiful: The Ultimate Guide to Looking and Feeling Gorgeous
. She spoke with DG while in Los Angeles to promote the book.
CARMINDY: My mother was a watercolorist, and I was obsessed with painting and art, but I also had this strange fixation on fashion. I met somebody whose father was a makeup artist for Hill Street Blues
. I thought, "Oh my God, there's a job as a makeup artist? This is great. This is what I want to do." I was only 15 or 16 years old.
One year my father asked me, "What do you want for Christmas?" I said, "I wanted one of those big Hollywood-style makeup mirrors with the balls all around and a director's chair." He built me that, and I started doing makeup on neighbors and friends. Later, I would drive up to Hollywood and walk into all the agencies and say, "Is there anybody I can help for free?" I became an assistant, and it went from there.
DG: One of the sections in your book starts, "Everyone loves a makeover." Why does everyone love a makeover?
CARMINDY: It's that caterpillar-becomes-a-butterfly moment. When you're teaching a woman how to recognize her own beauty--whether it be beautiful skin or beautiful lips or how to take her eyes and make them shine--she's starting to feel better about herself. Her self-esteem is boosted, she starts glowing, she's smiling a lot more. That's really fascinating to us.
DG: You disagree with the idea that makeup is the art of creating an illusion.
CARMINDY: I do. I am not for anybody contouring a face or changing eye shape. I think you really should enhance what you have. Makeup should be used highlight features, not change, correct, camouflage, and contour them.
DG: I forgot to put on my makeup this morning, because I was in a hurry to get to a conference. Could that ever happen to you? And if so, how would you react?
CARMINDY: Absolutely, absolutely. It happens a lot of times when I'm just going to run out of the house. You've got to be completely and utterly happy with who you are barefaced before you can put any cosmetic on your skin. That way, if you walk out of the house and you don't have makeup on, you're not afraid of the way people are going to perceive you. It starts from within.
The DG Dozen
1) How do you define glamour?
Being comfortable in your own skin and the most confident you can possibly be. Not makeup, not money, not competing with a celebrity of the moment but feeling good in your own skin. To me that's glamorous--walking in and being confident.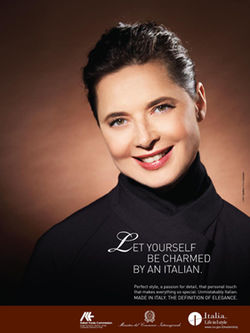 2) Who or what is your glamorous icon?
Isabella Rossellini. I worked with her once. It was a last-minute thing. She walked in, she didn't have any makeup on. She was dressed very casually. She looked so radiant. She didn't have an entourage with her. She walked in the room with confidence. She was intelligent. It was just this kind of grace. She was a glamorous, iconic woman to me because she knew who she was and she was so radiantly beautiful because of that confidence.
3) Is glamour a luxury or a necessity?
It's a state of mind.
4) Favorite glamorous movie?
Out of Africa.
I loved Meryl Streep's character and thought she was totally glamorous. She was a strong, real, dynamic woman who was not afraid to show weakness at times but always pulled herself through with dignity. Not to mention the scenery and outfits were fabulous!
5) What was your most glamorous moment?
I would have to say it was in Havana, Cuba, the night I met my husband. I was swooning because it was such a romantic place. I was hot and sweaty, and it didn't matter. I had met the man of my dreams and I felt beautiful. That was probably the most glamorous moment ever.
6) Favorite glamorous object?
I have an antique mirror coffee table that is very glamorous. It's aged, it looks like it's been under the sea.
7) Most glamorous place?
Havana. It's rough around the edges, but it's just so glamorous to me.
8) Most glamorous job?
What I'm doing now.
9) Something or someone that other people find glamorous and you don't.
Celebrities.
10) Something or someone that you find glamorous whose glamour is unrecognized.
My friend Kathy Atkinson, who is in my book in the makeover chapter. She is 50. She is not only a physically beautiful woman but one who shines. She is never afraid to tell it like it is, call people on their bad behavior or celebrate the goodness in them. She knows how to dress her body, play with makeup to accentuate the positive and never puts herself down.
11) Can glamour survive?
Absolutely, forever. It's been here forever and it can last forever.
12) Is glamour something you're born with?
It's probably at its most pure form when we're born with it. It's what we do to it when we grow older that makes it shine or makes it diminish.
EITHER/OR
1) Angelina Jolie or Cate Blanchett?
Cate Blanchett
2) Paris or Venice?
Venice
3) New York or Los Angeles?
New York
4) Princess Diana or Princess Grace?
Princess Grace
5) Tokyo or Kyoto?
Tokyo
6) Boots or stilettos?
Stilettos
7) Art Deco or Art Nouveau?
That's a hard one. Probably Art Deco.
8) Jaguar or Astin Martin?
Astin Martin
9) Armani or Versace?
Armani
10) Diana Vreeland or Anna Wintour?
Diana Vreeland
11) Champagne or single malt?
Champagne
12) 1960s or 1980s?
1960s
13) Diamonds or pearls?
Diamonds. I like raw pearls. I like raw pearls and I like diamonds.
14) Kate Moss or Naomi Campbell?
Neither. Kate Moss if I have to choose.
15) Sean Connery or Daniel Craig?
Sean Connery