DG Q&A: Debbie Millman
Debbie Millman has worked for a long list of high-profile clients, including Unilever, Gillette, the NBA, and Kraft. As the host of the weekly Internet radio show/podcast Design Matters, she has interviewed an even more impressive list of designers and design thinkers, from Stefan Sagmeister and Steve Heller to Malcolm Gladwell and Seth Godin (and me). Her book How to Think Like a Great Graphic Designer
features conversations with 21 leading lights. Debbie is not only a good listener but as interesting as the people she talks to. She was kind enough to let us turn the tables and have her answer the questions.
DG: Your love affair with brands began at an early age. What seduced you?
DM: My love affair with brands began when I was in the 7th grade. I looked around and everyone in school was wearing really cool pants with a little red tag on the back pocket and polo shirts with little crocodiles on the front right section over your heart. Levi's and Lacoste. But they were expensive and my mother didn't understand why we had to pay more money for the red tag and the crocodile when the clothing without them was the same quality but cheaper. Furthermore, she was a seamstress and her compromise to me was an offer to make me the very same clothes and stitch a red tag into the back pocket of the pants and glue a crocodile patch from the Lee Wards craft store onto the front of a perfectly good polo shirt from Modell's. While that plan didn't quite suit my aspirations of being a seventh-grade trendsetter or at least voted the best dressed girl at Elwood junior high, I eagerly pored through the racks of Lee Wards desperately searching for a crocodile patch to stick onto the front of my favorite pink polo shirt. Alas, there were none. Nothing even close. The best I came up with was a cute rendition of Tony the Tiger, but that really wasn't the branded look I was going for.
I rode my bike home from Lee Wards dejected and mopey and when mom found out I wasn't successful, I could see she felt sorry for me. She then took the matter into her own hands. The Lacoste shirts were too expensive, but there were indeed some Levi's on sale at the Walt Whitman mall and she bought me a pair. Problem was she didn't get me the denim kind like everyone else was wearing, she found me a pair that must of been from the triple mark-down racks...they were a pair of lime green corduroy bell-bottom Levi's. It was with a mixture of horror and pride that I paraded in front of the full-length mirror in my bedroom, ever-so-slightly sticking my butt out so that I could be sure the little red tag would show. So what, I was wearing lime green corduroy! They were Levi's. I was cool. My reign of logo worship began right then and there.
DG: How much can brands control their own glamour, and what tools can they use?
DM: Brands have become cultural transitional objects. The things a designer produces and a consumer buys creates a process of simultaneously merging with and differentiating ourselves from the world of others. Deodorant, coffee, water, shoes, handbags and nearly everything else we can acquire or consume today has become the currency in which we define ourselves. Years ago, brands were differentiated categorically. Now, brands are manufactured to differentiate a consumer attitudinally. The consumer chooses a brand that makes them feel most socially confident and wears this badge of cultural acceptability...whether it is deodorant, coffee, water, shoes, handbags and so forth.
----
Most people believe that brands are the promise of an experience. I believe that brands are a projection of our hopes and dreams and fantasies about who we are and what we want people to believe.

----
Today, consumers buy brands based on how that brand makes them feel. Brands assert moods, tastes and affiliations. Brands create deeply intimate worlds we can understand, and where we can be somebody and feel as though we belong. Brands create tribes. And interestingly, with brands we can join any number of tribes in any number of ways and feel part of something bigger than who we are individually. We can belong to the Apple tribe when we wear our iPods or talk on our iPhones, the Target tribe when we shop, the Starbucks tribe when we want a cup of coffee, the Chanel tribe when we put on our make-up, the Prada tribe when we pick up our purse. In this regard, the truth is that most people like brands and the way their favorite brands make them feel. When we covet a brand, we covet the feeling that that we hope that brand will produce as a result. Most people believe that brands are the promise of an experience. I believe that brands are a projection of our hopes and dreams and fantasies about who we are and what we want people to believe.
If a brand makes a person feel glamorous, then in order for a brand manager in a corporation to control this, they must arduously adhere to the intrinsic integrity of what this feeling actually means to their zealous constituents. They must remain true to this positioning despite marketplace idiosyncrasies and fads. The brand owner must retain control of the brand perception with a relentless persistence and constant assessment of the brand's relevance or the consumer will do it for them. In my opinion, the best tool to assess the consumer mind is with rigorous ethnography.
DG: What brands do you find glamorous? Why?
DM: The Finity grey corduroy suit I wore to my first job in 1983. I remember the sparkly colors of the stones in a brandless necklace a cherished babysitter gave me when I was 6. Goody Barrettes. Lanvin. The Hermes scent I wear every day called 24 Faubourg
. These objects and brands mark time for me, they represent age and rites of passage; they represent longing, and in my mind, they represent the glamorous moments of my life when I fit in, and was happy and loved.
DG: What books would you recommend for understanding glamour?
DM: Your book: The Substance of Style
, for one. I would also recommend the books Grace: Thirty Years of Fashion at Vogue
, the Sex and the City
books designed by Emily Oberman and Bonnie Siegler at the design firm Number Seventeen, Marilyn
by Gloria Steinem, Class: A Guide Through the American Status System
by Paul Fussell, and The Art of Imperfection
by Veronique Vienne.
The DG Dozen
1) How do you define glamour? Or what makes someone or something glamorous?
When I was a little girl, my mother drank her coffee black. She also smoked cigarettes and her friends from the neighborhood would come by to visit and sit in our orange vinyl breakfast nook and talk. Or rather they would gossip. They would chat about who had recently bought a new car or a fur coat or who was taking a vacation or a mistress or some new pill that had just come on the market. At eight years old, I was fascinated with my mother's girlfriends: to me, they were magnificently glamorous with their brightly painted nails and tightly pulled chignons and billowing wisps of smoke, and I would sit in the kitchen, off by myself, and pretend I wasn't listening when in fact I wasn't missing a word.
I find that the idea of beauty and glamour are strangely obsessive concepts in our culture. We live in a day and age wherein there are more people undergoing plastic surgery than ever before, and there is no part of the body that can't be refurbished and remade. But for me, true glamour can not be constructed or created. To me, glamour is an attitude.
2) Who or what is your glamorous icon?
The most glamorous woman that ever lived was Grace Kelly. Her performance in the film Rear Window
is the most glamorous performance in movie history. And her clothes! And that charm bracelet! And the little valise with her nightgown and slippers! I am swooning just thinking about it!
3) Is glamour a luxury or a necessity?
Neither. It is a gift. You either have it or you don't.
4) Favorite glamorous movie?
Funny Face
. Think Pink!
In 1993, I was still painting and had a solo show at Long Island University. My friend Isaac Mizrahi dressed me and lent me some pieces of clothing from his couture line to wear at the opening. He put me in a black taffetta skirt, a black leather strapless corset and insisted that I wear a little black cashmere sweater--but he only wrapped it around my shoulders and buttoned at the top. I felt so glamorous that I actually felt foolish, as it felt so foreign and strange to be so dolled up in such sexy, sophisticated, revealing clothes.
6) Favorite glamorous object (car, accessory, electronic gadget, etc.)?
My second divorce.
7) Most glamorous place?
The bathroom in the Hyannisport Airport, where I bumped into Jackie Kennedy Onassis coming out of a stall. When I saw her I gasped.
(truly)
8) Most glamorous job?
The great graphic designer, Carin Goldberg, asked me to be the Mistress of Ceremonies for an all day AIGA design and fashion conference in NYC last year titled Body Language. She also asked the designer and editor (and effortlessly gorgeous glamourpuss) Jiae Kim to dress me. Jiae encouraged me to wear clothes that I would never have picked (with color!!!!) and the AIGA had artists do my hair and make-up. I was in heaven. One of my colleagues sons didn't even recognize me!
9) Something or someone that other people find glamorous and you don't
Donald Trump.
10) Something or someone that you find glamorous whose glamour is unrecognized
The great screen actress Thelma Ritter. She always played second fiddle to Bette Davis or Marilyn Monroe or Grace Kelly and she was one glamorous dame in her own right.
11) Can glamour survive?
One can only hope and pray.
12) Is glamour something you're born with?
Sadly, yes. I curse the day I was born without it.
EITHER/OR
1) Angelina Jolie or Cate Blanchett?
Angelina is currently the most gorgeous woman on the planet.
2) Paris or Venice?
Paris, since I have never been to Venice. I'll let you know if this answer changes after my visit there next year.
3) New York or Los Angeles?
New York (as if!)
4) Princess Diana or Princess Grace?
Princess Grace (see above)
5) Tokyo or Kyoto?
Tokyo
6) Boots or stilettos?
Boots. Although my Christian Louboutin stiletto boots are really glam.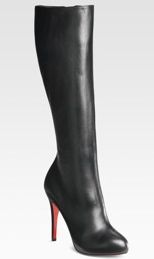 7) Art Deco or Art Nouveau?
Neither
8) Jaguar or Astin Martin?
Jaguar. Preferably in Racing Car Green.
9) Armani or Versace?
Armani
10) Diana Vreeland or Anna Wintour?
Diana Vreeland
11) Champagne or single malt?
Champagne
12) 1960s or 1980s?
1960s
13) Diamonds or pearls?
Diamonds
14) Kate Moss or Naomi Campbell?
15) Sean Connery or Daniel Craig?
Pierce Brosnan