Diaries Of A Groomzilla, Part 3
My Southern Baptist grandmother had a theory about gift-giving: If you put a rock in a Neiman Marcus box, someone will assume that it's really expensive and display it proudly on his or her shelf.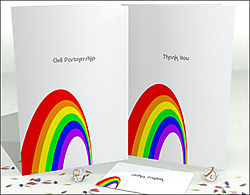 Rescuing Vera from the bookshelf of queer-camp, I flipped through page after page of rich cream cardstock and silken ribbons in silent awe. I imagined that "Brock and Caitlyn" must have had a grand time in Nantucket in their right-justified , all lower-case Futura 10-point ceremony, while "Harold and Cindi" must be one in-law visit away from divorce court after settling on some rather unfortunate center-justified Verdana Bold caps at the local Elks lodge. I also stressed a bit over whether I should consider myself a "Romantic Bride," "Modern Bride," or "Traditional Bride." Modern, surely. After two hours, I dutifully jotted down the reference numbers for my font, color, ribbon, envelope, envelope liner and graphic element. I also noted the price, my palms a bit sweaty at the thought of discussing this last datum with the Fiancé.
My strategy with Fiancé was to come home (with food) and simply rave about the invitations: the decadent silk lining of the envelopes, the proprietary oyster-colored ink, the sensuous tactile qualities of the paper, and the gorgeous art deco font. Surely Fiancé would be so wrapped up in my enthusiasm for this Groomzilla-perfect invite, and the message of luxury it would communicate to our guests, he couldn't possibly object to the cost.
Of course, Fiancé did object. Vehemently.
"Wasn't she that kinda frumpy Chinese chick who was a temporary judge on Project Runway a few times? I thought she made dresses or something. Why would someone pay that much money for her to xerox some invites?"
Blasphemy! Horror! How can Groomzilla survive without Vera Wang? More importantly, how can Fiancé not recognize that Vera Wang Fine Papers are surely made from special trees that young Vera herself raised from saplings during her Sarah Lawrence years and watered with the tears of couturiers who were overcome with her style?
Then Fiancé dropped the bomb: "Why don't we just send an eVite?"
The paramedics left the house for the second time in as many weeks a few hours later, gently reminding me that "911" was for actual crises and not fainting spells resulting from big gay style drama. Clearly I needed a middle ground between Vera and the eVite. The answer: the equally stylish Asian-American designer and Groomzilla BFF Judy.
[Ring Ring.]

Groomzilla: "Judy, can you please put on a long black wig and some leggings and talk with me about how my mattress and china lack the luxury that your Sorbonne-educated sensibilities can provide?"

Judy: "Have you been drinking again?"

Groomzilla: "Actually, I just need a little favor. Do you think you could re-create the design of a Vera Wang invitation if I scanned it over to you?"

Judy: "Of course! It will cost you some serious vino, though."
Groomzilla's friends are fabulous and also trade in the only stable currency of the New Economy: booze.
While my Internet anonymity precludes me from showing you the finished product, suffice it to say that Judy delivered the most gorgeous invitations imaginable. The font says "elegant but unpretentious," and the colors say "celebrate Autumn's bounty in our warm and intimate wedding venue." We can only hope that the invitations also say, "Now you'll think that the $4.99 Trader Joe's wine I am serving you is from a much nicer vineyard in Napa."
Next Week: Groomzilla and his partner in crime, Lesbian Bridezilla, travel to San Francisco for flowers, cake, and drama!