Diaries Of A Groomzilla - The Finale! (Special "Vote No On 8" Edition)
Groomzilla is married! (Cue choir of angels. Cut to techno re-mix of choir of angels, with disco diva belting out "Vote No on 8! Vote No on 8! Get married on the dance floor!" over and over again atop a pulsing bassline.)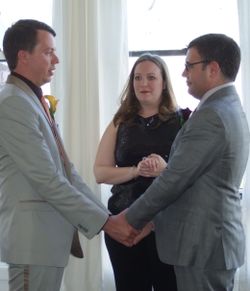 A Southern drama queen loves nothing more than a great horror story. My poetic muse secretly hoped that the florist would deliver a hideous vase of twigs and tinsel, the caterer would show up with a toaster oven and a crate of Hot Pockets, and the bartender would only think to pour Boone's Farm in strawberry and raspberry flavors. But alas, each of these fine professionals did an exemplary job of meeting my every crazy whim and instruction and producing a perfect event memorable for all the right reasons. In short, the wedding was a complete and (in my biased opinion) flawless success.
Well, perhaps not entirely flawless…
The night before, we decided that we needed to tie balloons on the front gate to help guests locate the house. Thinking that a simple, tasteful balloon could be procured at the Castro Safeway of Armistead Maupin fame, my friend C and I drove over to peruse the selection. What followed was a short tragédie bourgeoise:
Groomzilla (in huffy, exhausted, imperious tone): "I need a wedding balloon." (Subtext: "I don't have time to deal with you right now. Read my mind! I am important! I have 50 people coming over tomorrow to judge me!")

Store employee (in inexplicable Bronx accent): "OK, like, we have this balloon here." (Subtext: "I can't wait until I graduate so I don't have to deal with one more queen with an attitude. Get your own damn balloon! I should have never moved out of the deli counter.")

Groomzilla (annoyed): "That's ugly. This is a gay wedding." (Subtext: "Look at my ridiculous-but-chic oversized Burberry sunglasses! Do I look like I want a balloon in the shape of a bell? I bet Beyonce didn't have to shop somewhere that sold Elmo birthday cakes when she got married.")

Store employee: "In that case, you will be wantin' this balloon. It's all classy and sh*t." (Subtext: "This ain't Neiman Marcus, queen. It's Safeway. It's a balloon. I make $5 an hour – do I look like your wedding planner? You don't know me!")
Here is a photo of the Safeway Classy Gay Wedding Balloon. Order now while supplies last.
The following morning—the dawn of the big day—I suffered a panic attack after my husband's inexplicable and controversial decision to alter the sleeves on his suit with an old Ramada Inn sewing kit that he whipped out of his briefcase while I was in the shower. I strenuously objected to the thought of performing home alteration a few hours before the wedding, and—as any groomzilla would—engaged in a rational, calm dialogue with my husband as he began threading the needle:

Groomzilla: "This is not #$&%* Project Runway, Jerrell! We do not have time for your #$&%* this morning! Put on the suit! PUT ON THE SUIT!"

Husband-to-be: "#$&%*!"

Groomzilla: "#$&%*!! #$&%*!!!"
He began the alteration. I went looking for Xanax and champagne.
And thank God for modern pharmaceuticals, as a few hours later they kept me from murdering the drunken wedding guest who propositioned my father-in-law, brother-in-law (in front of his wife), Lesbian Bridezilla's wife (in front of LB), and my officiant's boyfriend, all before accosting my co-worker to inform her that she needed an "emergency rhinoplasty" and walking up to my Chinese-American friend (whom she has never met) and speaking to her in Mandarin. The impetus for homicide, however, would not be any one of these social faux pas, but the inexcusable choice to wear a low-cut red-and-blue silk floor-length halter dress with a gigantic floral print when the dress code was "sophisticated Autumnal cocktail chic"! Did she not receive the Fall 2008 Pantone color wheel that I sent out to guests four days before the wedding to ensure no errant subplots in my color story?
These ancedotes aside, the wedding was a huge success. But what about the event a week later in Half Moon Bay, where Lesbian Bridezilla and Dr. Z tied the knot in an opulent high-end wedding at the Ritz Carlton? Could a wedding that included custom-made yamulkes, an amazing lightscape, hors d'oeuvres served on silver playyers, and a dinner puncuated by a phalanx of waiters marching in unison through the dining room with hand-carved, LED-lit ice scultptures containing a custom-made sorbet possibly have any flaws?
----
At my dinner table, a wedding guest decided to remove his shirt to show everyone his tattoo…of a poodle mounting a wolf. Apparently the poodle was supposed to be a sheep, and the entire tattoo was a nod to the gentleman's bipolar disorder.

----
I took comfort that even in a big-budget wedding run with military precision by the unflappable LB, no amount of "zilla" can keep chaos at bay. At my dinner table, a wedding guest decided to remove his shirt to show everyone his tattoo…of a poodle mounting a wolf. Apparently the poodle was supposed to be a sheep, and the entire tattoo was a nod to the gentleman's bipolar disorder. Another guest wore a festive holiday tie….with a polo shirt. Add one epic mother-in-law meltdown involving a shoe being thrown and a veiled threat to suffocate grandma, and you had true perfection.
After the wedding, LB and I bonded over the stress of planning our weddings and the relief at their being complete. But what now? Today Californians head to the polls to decide if my marriage is valid.
Regardless of the outcome - and know that I have every prayer candle lit on my Vera Wang shrine - I know that every tearful vow, every joyous toast, and every precious moment of the wedding I obsessed over is as valid as that of any heterosexual married couple.
If anyone says otherwise, I'll just send Lesbian Bridezilla over to their house to sort things out.