Does The Same Rule Apply To Furniture?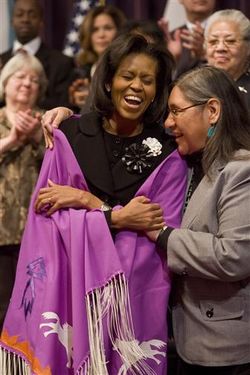 Cathy Horyn thinks it's bad that Michelle Obama works with a mere retailer, rather than individual designers, to develop her wardrobe as first lady:
Designers should have direct access to the first lady, and not have their work and ideas put through the filter of a retailer.
Yes, I'm sure they'd love direct access--as would a lot of other people. But there's a tradeoff: You can either have one or two designers with direct access or a lot of different designers edited by a specialist who isn't also trying to be a public figure.
Besides, nobody applies that standard to furniture designers or upholstery fabric designers. Everyone thinks it's perfectly normal for the Obamas to employ an interior designer to make the White House suit their style. Maybe we need a "designer" term for stylists--costume designers for playing yourself.
As for the photo, that's no stylist. That's an Interior Department official, wrapping the first lady in an Indian shawl.