Dolls For Grown-Ups: Escape, Transformation, And Desire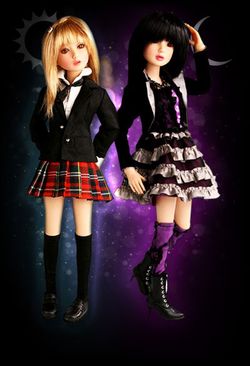 I've long been fascinated by the culture of dolls for adults: Who collects them, and why? What longings does their obvious glamour appeal to?
Little girls may like dolls because they yearn to grow up, but adults are wishing for something else. Some of the appeal is not that different from that of fashion magazines--beautiful faces and beautiful clothes and the pleasures of imagining yourself in them. (
Jason Wu
, who designed Michelle Obama's inaugural gown, is
best known as a doll designer
.) Some comes from having the doll you always dreamed of as a child. Some comes from having
the child you always dreamed of
in a doll.
But the appeal is not always that simple. Take
Delilah Noir
, whose website describes her as "Honor Student by Day, Shadowy Siren by Night." Here's a bit of her backstory:
Sometimes, I would just like to forget about the future and dream. A world without rules, structure, and pressure...
Yeah, freedom to be me....just for a little while.

The night excites me. There is something about the darkness that stirs my soul. I can't explain it. The street lights are lit, the stars peek out and the rays of the moon glow through a cloudy sky. I find comfort in the embrace of a buzzing city night.
The cool air that bites at my heels makes me want to dance. Stiletto lace ups are my passion. Corsets and coattails are only some of the clothes stashed away in the back of my closet. Red velvet, black lace, purple silk take my breath away....
I admit to finding this Gothic Lolita positioning a little kinky and assuming that she'd appeal to the sexual fantasies of those turned on by school uniforms. But, as is so often the case, the desire she appeals to is not the desire to possess her but the desire to (momentarily at least) be her. Her glamour, like glamour in general, is all about escape and transformation--made quite explicit in her self-description.
She makes me think of that side of me I never explored as a young person, because I was just too scared to. But it was always there. It's still there, that darker side, but I know where it inevitably leads, and I don't want to go there. So, I chose the light and the Lord where I know I'll always be safe. But I admire young Delilah for exploring the freedom and excitement of the night - if only for a little while. She seems to be a girl who knows her time there will be limited, which is a good thing, for to linger in the night too long would mean eventually getting sucked into it to the point of no return. And that's just some thoughts about the duality of man this doll brings to mind.
This post on
dolls as therapy
picks up the idea of projection in another way. For adults (and possibly for children as well), playing with dolls can take you out of yourself, allowing you to escape the troubles of the moment by focusing on an imagined other person whose desires you can fulfill. It's an escapism based on empathy.