Farah, Michael, And The Tyranny Of The Tan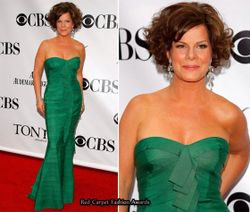 I've been contemplating a post on the tyranny of the tan ever since a well-meaning PR person sent me this photo of Marcia Gay Harden sporting a Fake Bake Airbrush Tan at the Tony Awards. I don't think the fake tan looks particularly flattering. Natural, but not flattering.
Like
dark-skinned women ranting against skin whiteners
, I hate fake tans on principle. I have what is known elsewhere in the Anglosphere as an
English Rose
complexion. My porcelain skin would have been a great hit in the 18th or 19th century. During my insecure my teenage years in the 1970s, however, it was considered hideously pale. If you were a blonde like me, you were supposed to be tan like Farrah. But no amount of sunbathing would give me tawny skin. I didn't even burn all that easily. My legs in particular seemed to reflect rather than absorb sunlight.
In my situation, a normal teenager would have slapped on more baby oil and roasted her skin in the feeble hope of overcoming genetics with persistence. (
They still do.
) Fortunately, I was a nerd and bored silly by sunbathing. So I didn't bother and thus arrived at middle age with few wrinkles and a low
risk of skin cancer
. As an adult, I even came to enjoy my
unfashionably pale skin
. No fake tans for me, or my blog.
Michael Jackson, of course, never came to terms with his own natural pigmentation. His pursuit of whiteness has been endlessly speculated about and analyzed, with a mixture of condemnation and pity. It had obvious political overtones. (Just
Google "Michael Jackson" and "black self-hatred"
.) But looking at all those beautiful photos of Farrah in her youth, I couldn't help remembering how it felt to be too white.