Fashion Recession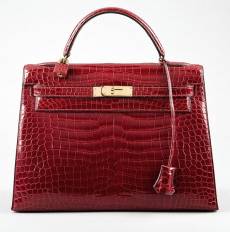 It's not just the luxury stores. Judging from these auction results, the economic contraction is hitting the market for vintage fashion, including such supposedly sure investments as Hermès bags.
This wine-red crocodile Kelly bag from 1990 was expected to go for £8,000 - £12,000. It sold for £4,000, with a single bid. The bag may be timeless, but it also screams, I spent $10,000 on a purse. Sometimes, that's a feature, at least in some quarters. Right now, it's a bug. Better to scream a lower number. (For those who are wondering, £4,000 is $5,864 at today's exchange rate.)
Other examples: a
black croc Kelly bag
from the 1980s, estimated at £3,500 - £5,000, went for £1,750; a
midnight blue croc Kelly bag
of the same vintage, estimated at £4,000 - £6,000, went for £2,000; and an unused
2007 tan leather Birkin
bag, estimated at £4,000 - £5,000, went for £3,800. All still way beyond my bag budget, but bargains of a sort.
These depressed prices could be good news for museum fashion collections, which can find it hard to afford the accessories that go with their clothes. Surely the much less classic It bags of recent years will find their prices crashing even further.