Fins De Siècle
Next is a black 1957 Lincoln Premiere. The car, whose tailfins were described in sales literature as "canted blades," is generally considered 
to be an unhappy update of the sleekly voluptuous 1956 Lincoln, which marked the beginning of Ford's effort to take on Cadillac as a volume make in the luxury car market. The pointy-finned reworking of Bill Schmidt's award-winning design was accompanied by a slump in sales, but that was just a pothole in the road compared to the cliffside plunge the marque took over the next three years with its immense, bizarrely styled 1958-1960 cars.
Third is a 1957 Pontiac Safari, a deluxe station wagon that shared its underpinnings with the 1957 Chevrolet -- a car whose fins need no 
introduction, and were certainly more memorable than the Pontiac's busy design.
Next is a 1957 Studebaker Golden Hawk. Marketed as a sort of family-size sports car, with fins tacked onto what started out as a striking (and finless) 1953 design by Raymond Loewy, the Golden Hawk was on a downward trajectory and not long for this world.
The last car in the lineup is the 1959 Eldorado Biarritz, whose towering rocket fins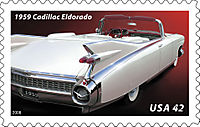 tend to overshadow the fact that the 1959 Cadillac,  along with GM's other offerings that year, established a template for full-size American cars that would last until the mid-1970s. Inspired (and dismayed) by an early glimpse at Chrysler's finned "Forward Look" in late 1956, a group of young GM designers undertook to scrap Harley Earl's plans for the 1959 line, which was not much more than a facelift of the company's baroque 1958 cars. The resulting 1959 Chevrolet, Pontiac, Oldsmobile, Buick and Cadillac managed to out-Chrysler Chrysler, with an even lower, longer silhouette. The "package" -- huge trunk, wide body, headlights brought down from fender tops and into the grille -- set the general dimensions for big cars until downsizing arrived in 1977.
Apart from postage stamps, the public taste for retro automotive styling has been indulged in recent years by actual cars: a Thunderbird two-seater, Chrysler's PT Cruiser, Volkswagen's New Beetle and Ford's new old Mustang. With their popularity in direct proportion to how closely the cars follow the original designs, America wants to know: Can tailfins be far behind?