Forgotten Fashion: The Four O'Clock Dress
Kate Hahn's Forgotten Fashion: An Illustrated Faux History Of Outrageous Trends And Their Untimely Demise
is a romp through fashion and social history, recounted through (faux) once-celebrated fads, from the Sidesaddle Motoring Coat of 1903 to the Hood-olo of 2005. Here, in honor of the new season of Mad Men (the show is set later, but the milieu is similar), is a mid-century selection, with illustrations by Andraé Gonzalo of Project Runway fame.
Four O'clock Dress, 1957
Not a day dress, and not an evening gown, this toga-like garment was worn by mid-century American housewives during the single, lonely, long-shadowed hour after the pot roast was placed in the oven but before a husband's key was heard in the front door. Made of light-reflecting fabrics such as satin or sharkskin, in bright period colors like Miami-limeade, Flamingo-pink, or Navajo-turquoise, it was meant to provoke optimism in the wearer.
The dress was held in place at the shoulder with a clasp which doubled as a makeup compact. This opened to reveal a more risqué shade of rouge than would be worn at other times of day. Each "Foursie" also had secret inner pockets to hide the tools of whatever vice occupied the otherwise abject and idle afternoon. Contents often included miniature gin bottles, marijuana joints, or palm-sized erotic novels.
Worn only in affluent suburbs reached by the commuter trains of New York City, the Four O'clock Dress was the concept of Jacques Brevi, a French couturier who trained in the Paris atelier of Hubert de Givenchy but came to the United States in the middle 1950s. Soon disillusioned with the grime of the bongo-playing milieu of the Lower East Side, he decamped to the affluent suburb of Bronxville, which, he wrote to a friend, was: "paradise with Cadillacs" but one that he feared was not safe from the "dirty fingers of Nihilism."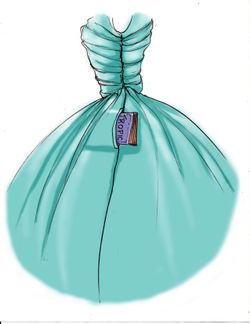 Brevi set to work preserving his suburban haven by creating a dress that would, "if not give meaning to life, then distract from the fact that there is none." He imported the brilliantly colored material from the finest Italian mills, hired students from Sarah Lawrence as seamstresses, and sold his creations in at least seven shops in Westchester County. The distinct rustling sound of the brilliant togas became known in better neighborhoods as "the laughter of the dresses," as Technicolor Athenas emerged from their houses and congregated on cherry-blossom drenched front lawns to trade hits of Indonesian reefer, sip Crème de Menthe, and read aloud from annotated bootleg copies of Tropic of Cancer
.
Soon, the women began to expand the secret sartorial compartments to include heavier items such as law books and manifestos. Brevi warned that the garments were not designed for this, and would not be able to withstand it. In April of 1957, his prediction came true when New Haven resident Carol Jones weighed down her chartreuse "Foursie" with copies of Atlas Shrugged
and a 300-page letter to the editor of the Westchester County Times espousing individual freedom. The inner pocket ripped, and the contents fell and crushed several of her toes, leaving her prone and unconscious from pain in her foyer.
The next day, the incident was reported in the very paper in which Carol had wished to publish her letter. Her husband, Charles Jones was quoted as saying: "A man should not come home to the smell of burning dinner. I blame these glorified bed sheets." Clippings of the story were found on the pillows of most Westchester housewives. The Four O'clock Dress was soon known as the "divorce dress" and sales plummeted. Brevi wrote to a friend, "I suppose I will once again pull up my silver tent stakes and take the circus of my life elsewhere." He moved to Vermont, where he made sandals.
Note: In areas closer to Manhattan, the garment was known as the Three-thirty Dress as the commuter trains arrived earlier.
*****
For a limited time, you can order a copy of Forgotten Fashion, signed by Kate and Andraé, for $9.95 plus shipping. Order it here no later than Labor Day, September 7—a great gift for your favorite fashionista! Greetings A&L Daily Readers: In your honor, we've extended the deadline for orders to Friday, September 18. But the sooner we receive your order, the easier it will be to get your book signed. Thanks!