Grace Kelly: "Natural Glamour" Rising From The Sea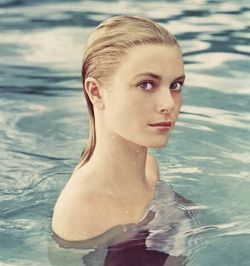 This famous photograph by Howell Conant recently sold at auction for $2,400. It originally ran on the cover of Collier's in June 1955 and helped establish Grace Kelly as an exemplar of a new style of "natural glamour," a graceful, elegant sexiness without the obvious artifice of the Golden Age studio photographers like Clarence Bull and George Hurrell.
From Botticelli's Venus to Ursula Andress in Dr. No, the beautiful woman rising from the sea is an alluring archetype. This photo adds an element of mystery, concealing the body below the surface of the water. The bare shoulders suggest nudity, but her swimsuit is in fact just visible.
In Life: Remembering Grace
, a collection of Conant's photographs, Kay and Digby Diehl write that the photographer and star together "broke the mold of the traditional movie star 'glamour' photograph....We feel we are seeing the candid, unguarded 'everyday' Grace, unassisted by hairdressers or makeup artists. The natural glamour of this 25-year-old woman is both timeless and seductive."
Despite the absence of stylists, however, that glamour is not as effortless as it appears. (Glamour never is.) Though it may seem spontaneous, the photograph is carefully composed. The bathing suit's straps have been removed to showcase those shoulders. The lighting is not entirely natural; Kelly's sister Peggy held a light reflector. Both photographer and subject (and presumably Peggy as well) had to stand carefully on tiptoes to avoid the spiny sea urchins on the sea floor. And the pose wasn't casual. To disguise her square jaw, Conant avoided shooting Grace facing the camera straight on. She posed first with a scuba mask but, after many shots, he decided it concealed too much of her face. He then took eight different shots of her before achieving this one.