Hotel Week: Mr & Mrs Smith's Top 10 High-Life Hotels
To cap off Hotel Week, we asked the team at Mr & Mrs Smith to compile a Top 10. (As an added touch of glamour, we even kept the British spellings.) Post a comment telling which of these you find most glamorous, or describing your own favorite glamorous hotel, and you could win a copy of The Global Shortlist, their lusciously illustrated guidebook. [VP]
We've posed by rooftop plunge pools, cavorted on Caribbean islands and dallied in designer dens (all in the name of research, of course) to bring you our run-down of the 10 most glamorous hotels from around the world. All that's left for you to do is sit back, sip champagne and decide whether you want to play A-list celeb, Park Avenue princess or lord of a country manor…
The Mercer, New York
Style Louche luxe lofts
Setting So chic SoHo
Sister to Hollywood's mansion of misbehaviour, Chateau Marmont, the Mercer is as much a classic as Manhattan the cocktail, Manhattan the movie, and Manhattan the city. Everything here is on a grand scale, from the huge windows bathing rooms in light, to the gargantuan marble bathrooms. The look is understated, edgy glamour, and the hotel's a favorite of the fash pack. As a guest you have a golden ticket to the hotel's achingly cool club, SubMercer, with its metallic mosaic floors and mirrored ceilings. It's easy to see why some people unpack their Vuittons and just never leave…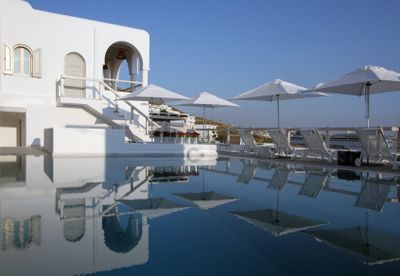 Mykonos Grace, Greece

Mykonos Grace, Greece
Style Contemporary coastal cool
Setting Chic, sleek Greek island

Sitting on a cliff top above the Aegean, the terraces and colonnades of this whitewashed hotel jut out imposingly from the rock-face. Attentive but unobtrusive staff seem to appear out of the stonework when needed, as though unwilling to disturb the perfect balance of clean lines, clean living, and absolute peace. The turquoise infinity pool – a major draw for the island-hopping playboys and girls that stay here – looks out onto the sea and is the perfect spot to sun-bask in an over-sized lounger, sipping on the frozen fruit shots distributed by staff and planning an evening's misbehaviour in lively Mykonos Town, just down the road.

Wheatleigh, Berkshires
Style Refined rustic retreat
Setting Lenox hillside

Perched atop a grand, green knoll in the Berkshire Hills, Wheatleigh combines the grandeur of a Florentine palazzo with the intimacy of a country cottage. With antique furniture and modern oil paintings, and a 22-acre landscaped-garden setting, Wheatleigh is a luxurious country-house classic. And, with 19 rooms, massages on demand, and staff happy to bring out snacks as you float in the pool, you'll feel like the lord of the manor.
Cotton House, Mustique
Cotton House, Mustique
Style Champagne colonial
Setting Private-island playground
Hotels don't come any more exclusive than Cotton House. Only accessible by private plane, the tiny island of Mustique is a bubble of inviolable luxury, with perfect beaches shared only between the hotel's guests and the island's celebrity rich. The coral-white boutique hotel, once a plantation house, combines French West Indies architecture with Caribbean trimmings. It's the social hub of the island, too – every Tuesday, the super-rich neighborhood villa owners flock to the Great Room bar for champagne and canapés. Rooms are decorated in muted, beachy shades with floor-to-ceiling windows to maximize the breathtaking sea views.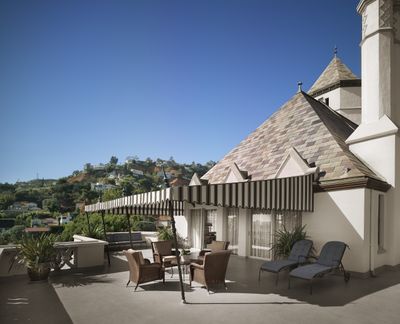 Chateau Marmont, Los Angeles

Style Decadence and debauchery
Setting High on Sunset

LA icon Chateau Marmont is the stuff of legend. Sitting high in the hills, this pseudo-Norman chateau is all turrets, towers, and vaulted colonnades – with a magnum-full of celebs thrown in for good measure. The hotel's idiosyncratic pseudo-Norman architecture shines out across LA from high in the hills like a Disney castle gone bad; its turrets and towers a siren call to playboys and their perfectly coiffed muses. Chateau Marmont may have a reputation for hard-partying, non-stop glamour, but the reason those in the know return time after time is simple: classic good looks that haven't dated a jot, moreish menus by one of New York's most feted new chefs, an intimate ambiance, and staff who know how to pamper without imposing. Truly, one of the classiest hotel acts around.

La Purificadora, Puebla, Mexico
Style Industrial revolution
Setting Colonial old town

From the outside La Purificadora resembles its previous incarnation – a 19th-century water-bottling factory – but once you pass reception (with its artfully preserved peeling paintwork), the hotel opens out into a cathedral of space, with rough granite walls and monolithic pillars made from reclaimed wood. Water trickles down the staircase to a pool at the bottom, and two huge fire pits surrounded by purple cubist sofas dominate the lobby.

One thing's for certain – La Purificadora is cool. The spectacular rooftop pool oozes sex appeal with glowing onyx pillars and glass walls, giving the suitably sultry margarita-suppers cheeky underwater views from the bar. La Purificadora is the architectural equivalent of a shot of tequila: momentarily overwhelming, but it sure makes your weekend go with a bang.
XV Beacon, Boston
XV Beacon, Boston
Style Classic city chic
Setting Beside beautiful Boston Common
With original cage elevators and art deco furnishings, this Beaux Arts hotel exudes demure elegance. Rooms are a mix of classic and contemporary, with Louis XV-inspired furniture sitting alongside 42" flatscreen TVs. The landscaped roof gardens have spectacular views of the city's skyline, and the cherry on top is the hot tub to enjoy them from. With in-room massages, a Lexus chauffeur service, and personalized business cards for its guests, XV Beacon is a landmark of living it luxe.
St James's Hotel & Club London, UK
Style Grown-up glamour
Setting Majestic Mayfair
London's gentlemen's clubs normally conjure associations of wood-paneled studies shrouded in a fog of cigar smoke and mystery, but the newly revamped St James' hotel's prize possession is its art collection – a massive stash of modern portraits than adorn the suites, the lobby walls, the sleek canary yellow bar area, and the hothouse of haute cuisine that is the hotel restaurant. A pristine marble staircase wends its way up from the black lacquered lobby, leading to rooms that promise hand-made Hypnos beds dressed into the most luxurious of linens and gleaming black and chrome bathrooms.
Shore Club, Miami
Shore Club, Miami
Style Miami meets Marrakech
Setting Sexy South Beach
At first glance, the Shore Club appears to be quite modest – its minimalist lobby features a reserved blend of grey terrazzo floors, white sheer fabrics, and art deco-style columns. But, as fashionistas well know, it's all in the accessories, and the Moroccan-themed furnishings, sheer white drapery and quirky one-off pieces set the style stakes high. Around the pool lie lithe, tanned hipsters, cocktails in hand, luxuriating on oversized sun loungers. And as the sun goes down, the scene hots up with more poolside posing in the hotel's two outdoor bars, Rumbar and Sandbar.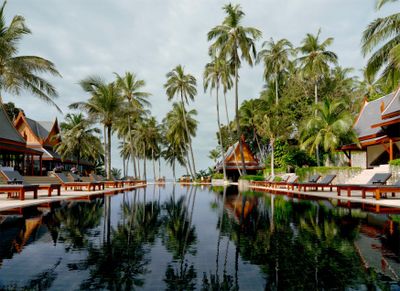 Amanpuri, Phuket, Thailand
Amanpuri, Phuket, Thailand
Style Chic teak Thai pavilions
Setting Pansea Beach coconut groves
Set blessedly apart from the Phuket tourist trail, Amanpuri may be the granddaddy of Aman Resorts' group of insanely luxurious spa hotels, but even at 21, it still looks like it was built last week. By day, laze on a wooden sun-lounger beside the midnight-blue infinity pool (and don't miss the incredible poolside tea and cakes at 4pm every day), or on the ice-white sands of the perfect private beach. At dusk, watch the sunset from a day-bed in the Beach Club, quaffing cocktails to a chilled-out soundtrack of lounge music, before choosing between the hotel's three gourmet restaurants (Thai, Italian and Japanese) and settling into the chic bar for a post-prandial cigar worthy of a Bond villain.
For more glamour-draped hotel stays, visit Mr&MrsSmith.com.
---advertisement---