Open Letter To Mary Schapiro, Chair Of The SEC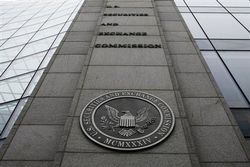 I'd been struck by a story about the new chair of the SEC --Mary Schapiro, a DC lawyer who's been the head of the Financial Industry Regulatory Authority, not because I'm so fascinated by finance but because I used to date her husband. I read the piece out loud at the breakfast table, and my ever-practical husband pointed out that even if I'd managed to snag the guy, it would have been highly unlikely that I'd have her job today. He was right-- I did have a little Walter-ette Mitty vision of myself in a Prada suit and an Hermes bag, swearing to keep stockbrokers honest
I'd gone out with Chas a long time ago in DC, but going out is a euphemism as we never went anywhere. I worked at the Smithsonian, in a job that was well suited for someone with a generous trust fund (i.e., not me), and he was in law school and clerking for a tiny stipend. He favored a retro preppy style, had deep blue eyes and a slight stammer. I favored tequila over white wine coolers, high heeled slingbacks over Jacques Cohen espadrilles, and having late-night fun over everything else. My southern housemate, Margaret, once remarked that she couldn't imagine what he saw in me. Her boyfriend, a recent Annapolis grad, gave me a sidelong glance--he knew exactly what the guy saw in me. In Washington, in the late 70s, I could have been considered a walk on the wild side.
The only real date-date that I recall was an evening that should have clued me in to how wildly unsuited I was to the life of a Beltway lawyer. He asked me to go to the Messiah Singalong at the Kennedy Center--an annual event attended by people I considered to be older than dirt. Little did I realize that the senior partners of his firm were very keen on the activity. At 22, I had few ambitions besides a pair of suede boots at Garfinkels.
I managed to costume myself as a kindergarten teacher in a grey jumper, and we went, we sang, and then we went to an egg-nog party at a fellow clerk's apartment. The hostess, who had a raging crush on Chas, was too polite to be bitchy to me, so instead tried to engage me in conversation about what she thought would be a favorite subject--Chas. Perversely, I opted to talk to a silver-haired guy who'd brought a bottle of scotch. We got on like a house afire.
On the way home, Chas was raving about my hither-to-unseen social skills. He'd been very impressed that I had managed to hold the attention of a big-deal Undersecretary of Something or Other. Too tipsy to be tactful, I pointed out that the Undersecretary was chiefly interested in getting into my underthings. Why else does anyone talk to a 22 year old girl? He was a little shocked. He hoped I hadn't been inappropriate. I pointed out that inappropriate seemed pretty interesting to him. He stopped calling soon after.
The last time I saw him , Chas was recovering from surgery. He'd had a bout of testicular cancer, and naturally, I wanted to see the scar. "Don't be so prissy," I told him. "I've seen you naked about 1,000 times." So he dropped trou, I made sympathetic noises, and as he zipped up, he said "Don't tell Mary."
And I didn't. Until now.