Inès De La Fressange In Gaultier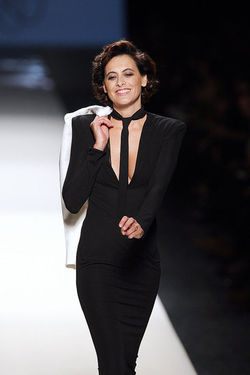 Aged crone, Inès de la Fressange, lights up the Gaultier show. The WSJ writes:
As the voluptuous 51-year-old strutted down the runway, the crowd cheered this one-time French queen of the catwalk.
And the commenters go wild. She's great looking but not voluptuous anywhere but the starved-to-near-perfection world of couture.
If you look carefully, you can see the jet-trail she's leaving. Talk about smokin'!