Magical Words And Powerful Voices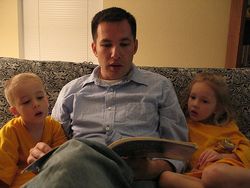 Anyone who has heard a small child say, "Read it again, read it again," knows that children love repetition. They love audible patterns of all kinds, as Dr. Seuss realized. The number of sound patterns in the following two lines is fascinating:
"And NOW comes an act of Enormous Enormance!
No former performers performed this performance!"

Such lines were never intended to be read silently, they were intended to be performed by someone reading to a child. If a word like "Enormance" was needed for sound, then Dr. Seuss made it up. Children respond because hearing such patterns performed out loud creates a kind of magic spell.
Children's love of patterned language is not some temporary madness, it's part of being human. We retain our ability to enjoy language created for oral presentation all our lives. Such language has its greatest impact when we hear it presented, rather than when we read it silently. And hearing such language performed by a great vocal interpreter remains a magical experience.
I'll never forget the first time I saw the film version of Dylan Thomas's Under Milkwood. I felt almost drunk on words as I heard Richard Burton's glorious voice read Thomas's resonant lines. Burton, seen at right as a young star, was, of course, also a great actor. The play was first written for radio, and you can hear the beginning here. Burton, Elizabeth Taylor, and Peter O'Toole, along with many other fine actors, are in the film version. (You can get get a feel for the visual quality of the film here, but only by enduring a hideously over-hyped theatrical trailer.)
Another way to make words audible is to intone them, to sing them. This has long been a way to give special meaning to the words of religious ceremonies. It can also work with the lyrics of popular songs. With some songs, witty rhymes can be a major source of delight, as with these gems from Warren Zevon's "Poor Poor Pitiful Me" (I'll quote the female version of the lines, which are used in the video below. Zevon's original version was from a male perspective):
He really worked me over good,
He was a credit to his gender.
He put me through some changes, Lord,
Sort of like a Waring blender
Well, I met a boy in the Vieux Carré
Down in Yokahama.
He picked me up, and he threw me down:
He said, "Please don't hurt me, Mama."
These lines are clever on the page, but make a stronger effect when performed by someone with a rich voice like Linda Ronstadt (just as was the case with Richard Burton reading Dylan Thomas).
DG recently had a post on pop divas, and in We Gotta Get Out of This Place: The True, Tough Story of Women in Rock
Gerri Hirshey called Ronstadt the first "arena-class rock diva." Reaching that status was an arduous journey for her. Early in her career, as reported in her Rolling Stone bio, when she went onstage "she was often devastatingly timid." Even as she became a popular concert attraction, she was "still hampered by stage fright."
But there was nothing timid about her voice: it was a force of nature. Like Richard Burton, her ability to use that voice to magical effect would bring fame, fortune, and glamorous relationships. Burton's second wife was Elizabeth Taylor, and Ronstadt's personal life has included relationships with men such as Star Wars creator George Lucas and Jerry Brown when he was governor of California. While singing, Ronstadt could dramatically change the character of her voice (as Burton could do as an actor). She begins "Long Long Time" by singing two phrases in a young-girl's voice, then suddenly her voice becomes that of a mature, aggrieved woman. Her performance becomes a drama, and her ability to transform her voice allows us to hear different emotional qualities embodied in the sound of her voice itself.
Her appearance could seem just as changeable. She could variously seem vulnerable, sexy, innocent, buoyant, or world-weary. She could seem to be the girl next door dumping her boyfriend ("You're No Good"), or the personification of loneliness ("Someone to Lay Down Beside Me"). Rolling Stone dubbed her "Rock's Venus," and her poster decorated countless dorm room walls. Writer Phillip K. Dick was obsessed with her, and she appears as a persona, "Linda Fox," in his novel Valis
. He wrote elsewhere, "My fantasy number that I run in my head is, I discover Linda Ronstadt, and am remembered as the scout for Capitol who signed her. I would have wanted that on my gravestone."
While researching this post, I was surprised to learn from a NY Times article that Ronstadt felt her singing had been most influenced by opera star Maria Callas.
Emmylou [Harris] and I are both Maria Callas fans. We listen to that all the time. She's the greatest chick singer ever.
I learn more about bluegrass singing, more about singing Mexican songs, more about singing rock-and­-roll from listening to Maria Callas records than I ever would from listening to pop music for a month of Sundays.
In 2006 Opera News wrote that "Nearly thirty years after her death, [Callas is] still the definition of the diva as artist." Callas had the same power we have been discussing: an ability to color her voice, to make words audible in an extraordinarily vibrant, emotion-laden way—an ability which allowed listeners to have almost magical experiences. Few people thought Callas was gifted with the most purely "beautiful" operatic voice of the time, but the way she would sometimes shape her voice and performance for dramatic effect could leave audiences stunned. Callas was also a great actress on stage. Here's a video of her bringing the house to its feet at the Paris Opera in 1958. Even during a thunderous standing ovation that temporarily stops the performance, she continues to act—she never breaks character.
[Reading before bedtime photograph by Flickr user jeff, the rhino under the Creative Commons license. His photostream is here. The Linda Ronstadt photo is from the Wikimedia Commons.]