Jeanne Margaine-Lacroix: The Path-Breaking Designer You've Never Heard Of
In honor of International Women's Day, on Friday Racked posted a tribute to "Six Groundbreaking Women Designers Who Changed Fashion," rounding up the usual suspects from Coco Chanel to Miuccia Prada.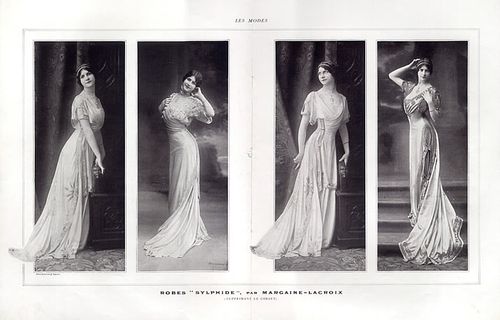 Left off the Racked list, because she's largely been forgotten, was the pioneering pre-World War I designer Jeanne Margaine-Lacroix, known in her day simply as Margaine-Lacroix. Susie Ralph, a British fashion historian, is engaged in a one-woman crusade to restore this once-prominent designer to her rightful place in history. Here, introducing an exhibit on Margaine-Lacroix, she explains how the designer's skintight, corsetless designs shocked Paris in 1908: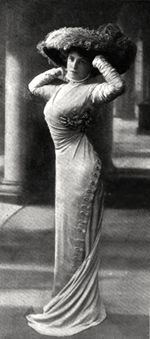 In 1908 Jeanne Margaine-Lacroix sent three mannequins to the Longchamp race-course clad in her form-revealing robes-tanagréennes. These corsetless dresses caused a sensation among Paris' fashionable crowd - a riot according to some newspaper reports. Worn without corsets and slit to the knee on one side over the most transparent of underskirts, their impact on the fashion world was instantaneous and resulted in major press coverage not only in Paris but around the world. In today's parlance the style immediately "went viral"....It was Margaine-Lacroix's daring vision that brought to an end the ideal of the rigidly corseted hour-glass figure, and ushered in the new, slim twentieth century silhouette.
Although worn without corsets, Margaine-Lacroix's dresses were anything but baggy. They were cut and seamed to give the wearer va-va-va-voom curves. "For Mae West," wrote Colette in a 1938 essay on the star, "the age of vice is not 1900 but 1907 or '08: the era of giant hats made popular by Lantelme, the clinging dresses of Margaine-Lacroix."
For all their raciness, Margaine-Lacroix's designs captured the imaginations of mainstream critics like Mrs. Jack May of the British weekly The Bystander. "From no single aspect does this elegance offend the eye, the exquisite simplicity of the silhouette affording the absolute relief and pleasure," she wrote of the dress to the right. "Carried out in the delicate green of a young sapling leaf, the harmony undisturbed, save for a great butterfly motif worked in padded relief in Egyptian colourings, few women would be ale to resist the claims of so persuasive a possession."
For more on Margaine-Lacroix, watch Susie Ralph's lecture here (the intro is in Italian, but the lecture is in English).