Michael Jackson: The Glamour Of The Myth
[Editor's note: With this post, DMC, known to DG readers for his Diaries of a Groomzilla (posts 1, 2, 3, 4, 5, finale, photos) rejoins our lineup.]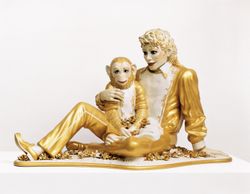 When DG editrix Virginia Postrel queried her contributors about the glamour factor of the late Michael Jackson, I was surprised by the tepid response. Some acknowledged that MJ had some glamorous moments in the Thriller
era, while others found it hard to see the King of Pop as a glamorous icon. I, of course, struggled as to where to begin my dissertation on the glamour of his royal highness: the elaborate clothes? The sparkling glove? Neverland Ranch? The names of his children (Prince Michael, Paris, and Blanket) - or more fundamentally, their entire myth-like existence? The fact that every child of the '80s had at least one recess where someone had a moonwalking contest? One could write volumes on the engrossing, transformative world in which Jackson seemed to live without a tether to normalcy, without ever having to comment upon his undeniable contributions to music.
The one image that keeps coming to mind, and perhaps the highest exponent of Jackson's mythopoeia, is Jeff Koons' 1988 ceramic sculpture, Michael Jackson and Bubbles, one of the three copies of which is on display at the BCAM in Los Angeles. The subject matter alone speaks volumes: Bubbles, a chimpanzee that Jackson adopted from a cancer research center, regularly appeared in images of Jackson in the late 1980s and was a target for public mockery. By coating the sculpture in gold paint, Koons undescores the role of Jackson as a pop idol and cultural fetish object, while the inclusion of Bubbles in a matching military jacket is simultaneously heart-warming and, if contemplated too deeply, slightly unsettling. (In later years, Michael's iconography seemed to acknowledge his fans' idolatry of him, such as my favorite image below from Mark Romanek's masterful video for Scream,
a single from Jackon's 1995 album HIStory
(the cover of which features another sculpture of Michael towering over the horizon).
In retrospect, there is an almost refreshing innocence to the "Bubbles phase" of Jackson's eccentricity, a time when he was seen as a modern-day Peter Pan and not an accused pedophile shrouded in mystery. Koons was once quoted as saying, "If I could be one other living person, it would probably be Michael Jackson." While undoubtedly a far less popular wish among his fans in Jackson's final years, his legacy as the ultimate glamour icon remains.