Perfectly Charming
There's something about charm bracelets.
People love them – and love to talk about them. In her book Charmed Bracelets, jewelry designer Tracey Zabar says that nearly every time she wears a charm bracelet (and that's almost every day), women stop her on the street to ask about the jangly bracelet on her wrist.
They want to know the story of the charms and how the bracelet came to her. All jewelry – even costume stuff purchased at the mall – tells a story. Why it was purchased, who gave it to the person wearing it, how it makes her feel.
But with charm bracelets, the story is more overt. Charms are typically selected not just because they're pretty, but for what they mean. They describe the bracelet's creator.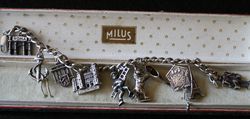 My own charm bracelet, pictured on the left in its original box, was a gift from my grandmother. She compiled the charms while living in Europe during the 1950s. My grandfather was stationed in Germany - the bear and Brandenburg Gate represent my grandmother's time in that country.
Other charms were souvenirs of trips – Rome, London, Paris, the Netherlands and Switzerland all have spots on the chain.
When I wear the bracelet – and I do, frequently – I have the same experience as Zabar. People, even those I don't know, compliment the bracelet and ask questions about the charms. I get to tell them about my glamorous grandmother and her years in Europe, when she had two small children but still managed to travel and live in style.
Vintage charm bracelets are popular these days. Jewelry stores and sites like eBay and Etsy burst with them. The allure of the story-in-a-bracelet is so strong that for some, it doesn't even matter if they don't know who first created the bracelet, or why the charms were chosen.
They know that there's a story behind it. And that's enough.