Santa Fe Opera: Enchanting The Desert Night
Santa Fe Opera performances take place after dark in a beautiful open-air theater that sits like a fantastic sculpture on colorful sandstone hills a few miles north of the city. The glamorous building promises a glamorous experience.
Opera is the most costly and extravagant live performance art, and audience members often attend opera looking their finest. (Attending opera performances were the most glamorous occasions in the films Pretty Woman and Moonstruck.) And even though casual wear is acceptable for summer opera festivals like Santa Fe, most attendees dress for the occasion. For example, to attend one performance, my wife wore blousing, black Yael Orgard pants, a black, asymmetrical Japanese-designed top, and a woven Randy Darwall scarf. Because the nights were cool, she wore the pants again to the second production, this time with a long-sleeved black devoré top by Carter Smith. (She joked that she had almost "forgotten" to bring dress clothes, so that she would "have had to" buy new ones.)
The audience dresses stylishly in part because opera tends to be a refuge for "style" itself. A recent issue of Opera News focuses on the issue of style, and in one article Philip Kennicott expresses concern about historical and economic pressures that threaten to create a kind of flatness and depthlessness in our cultural experiences. He argues that opera struggles against those pressures because "A mysterious force within the opera house—the will to style—keeps the art form vital and alive."
Even comic operas include displays of vocal virtuosity that remove the means of expression from that of the everyday world. From its beginnings in Florence at the end of the 16th century, opera has centered on characters that voice their feelings with passionate expressiveness. People go the opera hoping to experience expressive power, theatrical illusions, and enchanting productions. And they often dress so that they too become part of the glamorous ambiance.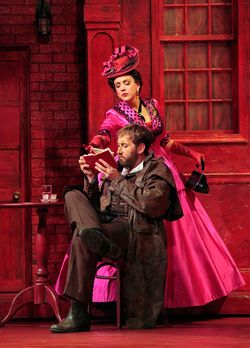 On July 31 we saw a wonderfully enchanting performance of Mozart's Don Giovanni (photo at right). (Da Ponte's libretto creates a marvelous tragicomic mix of peasants, servants, nobles, and a living statue. Mozart's ability to embody this in music is uncanny.) The cast was exceptionally strong and well balanced, a notable achievement for an opera with several challenging roles. The sets and costumes contributed handsomely, the orchestra played brilliantly, and the performance was a delight from beginning to end.
Santa Fe Opera has a long, laudable history of commissioning new operas, and on July 29 we saw this summer's premiere, The Letter, based on Somerset Maughan's 1927 play. The play has been the basis of two films, the second one starring Bette Davis.
The plot in a nutshell is that Leslie murders her lover Geoff when he tries to end their relationship. Leslie then claims Geoff tried to rape her, and that she shot him (six times) in self-defense. Unfortunately, Geoff's mistress (he must have been busy) has a letter from Leslie asking Geoff to meet him on the day she shot him, a letter which makes it clear they had had a ongoing relationship. Howard, a lawyer friend of Leslie and her husband, bribes the mistress to obtain the letter, and, without this incriminating evidence, she is found not guilty. A good operatic setup.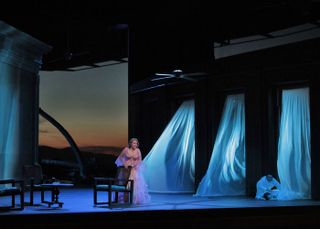 The sets by Hildegard Bechtler were beautiful and evocative, especially her use of billowing curtains and a gap in the set that revealed the mountains to the west. Fashion designer Tom Ford's costumes created a wonderful 1930s feel, and looked more like fine clothes than costumes. The performance presented the opera well. Soprano Patricia Racette was a powerful presence as Leslie Crosbie. I was somewhat disappointed with the voice of Mika Shigematsu as the mistress, but she was nonetheless convincing in the role.
The libretto was adapted by Terry Teachout and the music was written by Paul Marovec. It was the first opera for both, and on the whole it was successful. The audience response was enthusiastic, and the evening enjoyable. Nonetheless, the opera has weaknesses.
The Letter was advertised as an "opera noir." Unfortunately, there were unintended comic laughs in the first scene. For example, just after we witness Leslie shoot Geoff six times (he was dead after the first two), she tells her Head Man, "It was an accident." After that it took the audience several minutes to realize that this was a dark, rather than comic, opera.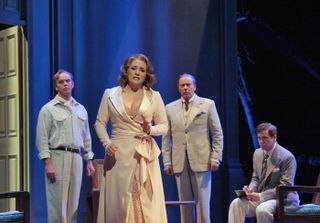 Because words usually take longer to sing than to speak, librettist Terry Teachout had to condense Maugham's play considerably to have the opera run 100 minutes. Perhaps a slightly longer opera would have been better. Our experience of film noir causes us to anticipate some witty repartee, while the condensed lines sometimes felt generic and abstract. One sequence ran: "I love you!" "You must die!" "What is truth?" "What is right?" "And where is the light?" "What is love?" Late in the opera, one of the opera's most memorable lines, "I have murdered my heart," occurred at the end of an aria for Leslie that otherwise did little more than recap her situation.
Pulitzer Prize winner Paul Moravec is a fine composer, and he sets text well. The music moved along at a brisk pace, though at times the construction seemed almost phrase by phrase. The orchestration was generally good, but it occasionally overwhelmed the singers, especially his use of loud brass. On the whole, I agree with the cute twenty-something sales woman, who expressed her reaction to me in a shoe store the next day: "I was entertained, but never deeply moved."
The opera lacked big moments of sufficient impact, places where the main characters express their emotions so eloquently that the language becomes instantly memorable, as is the case with countless arias from the "standard" operatic repertoire (as well as with Shakespeare's soliloquies). Such moments are a crucial aspect of why we go to live performances of operas. We look forward to hearing how great performers will interpret such over-the-top passages. I would have been glad to have this opera run a few minutes longer in order to have heard a character or two engage in some shamelessly eloquent soul-searching. That's part of the magic we hope to hear.
[Photo of Santa Fe Opera house by Robert Godwin. Performance photographs by Ken Howard.]