Sarah Palin Style: MSM Floods The Zone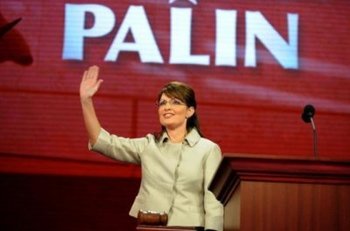 Please let this end soon. The media's fascination, horrified and other, with Sarah Palin's clothing, hair, eyewear, and shoes, is fast approaching not just sensory overload, but overcurrent.
Jodi Kantor in the NYT:
The governor, thin to begin with, began an elaborate game of fashion-assisted camouflage. When Vogue photographed her, five months pregnant, for a profile in January, she hid in a big green parka.
Because who wears a parka in Alaska in January? Omigod. When was the last time you saw someone visibly knocked up in Vogue?
Lauren Beckham Falcone on her hair in the Boston Herald:
"It's about 20 years out of date," said Boston stylist Mario Russo of the Alaska governor's 'do. "Which goes to show how off she might be on current events."
Because the outside of your head indicates the inside. Or vice versa. Or something. And Boston is all about hair.
Elizabeth Snead in the distastefully named Dish Rag at the LAT:
Let's hope pregnant teenage daughters aren't the next big craze Sarah inspires.
The commenters, unusual for the LAT, seem to think this is a cheap shot.
The London Times fashion team weighs in:

Remember those Utopian Donna Karan ads in olden times featuring a glamorous woman being sworn in 'neath the stars 'n' stripes? SP does.
Oooh--I remember those. Donna must be freaking out. Who dreamed anyone would take those seriously?
And in a simile that's the ultimate compliment for any woman, AdAge quotes Harvard's John Quelch:
McCain has put a red Chevy Camaro in the garage next to his truck.
Thanks honey--do these rims make me look fat?