Stop The Presses: Brigid Berlin Tabloid Needlepoint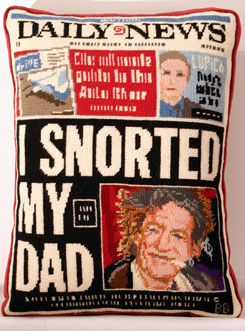 Brigid Berlin, Warhol pal, has turned out the most amazing needlepoint ever. Front pages of the NY Post and Daily News, immortalized in yarn, are on display at John McWinnie at Glenn Horowitz through Nov. 22nd.
It is not uncharacteristic that Berlin in later years has turned to the traditionally ladylike craft of needlepoint to create work that continues to challenge the social status quo, defy convention, and pose questions about taste and society.
She'd also done a series of pillows, based on his favorite trials, for Dominick Dunne.
New York Social Diary has an interview and tour. Warning: Berlin is just wild about pugs.