Sexy Mary: In A Renaissance Mood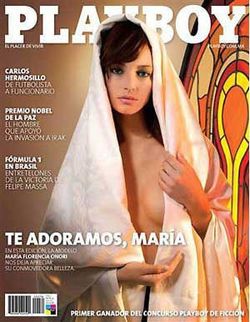 The Mexican edition of Playboy has created quite a stir with its new cover photo, issued uncomfortably close to the Feast of the Virgin of Guadalupe.
"The image is not and never was intended to portray the Virgin of Guadalupe or any other religious figure. The intent was to reflect a Renaissance-like mood on the cover," said the magazine. Right.
One Renaissance figure might find the sexy image all too familiar:
Savonarola
, the fiery Florentine Dominican who inspired the original (or at least most famous)
bonfire of the vanities
. In a 1496 Lenten sermon, he denounced Florentine artists, and their patrons, for the way they portrayed holy figures:
"You painters do harm, and if you knew the resulting scandal you wouldn't paint figures such as these, filling our churches with human vanity. Do you really think the Virgin Mary went around dressed as you depict her? I assure you she dressed like a poor girl, simply and modestly, and was so well-covered that all you could see were her eyes...."
"You would do everyone a favor if you wiped out the suggestive figures you have painted: you show the Virgin Mary dressed as if she were a prostitute!"
(Quote source: Mary in Western Art
by Timothy Verdon.)