Mama M.I.A.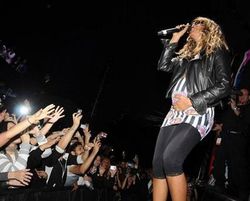 The minute M.I.A. stepped out on to the stage at last night's Grammys, Facebook status updates and Tweets blew up. The rapper performed nine months pregnant (her baby was actually due that day) and she was truly outrageous, wearing an crazy, see-through mesh polka-dotted number and tennis shoes and bouncing around like a teen after too much pizza and ice cream. (Check out the number here.) It was kinda awesome.
(Here she is on the red carpet before the show.)
You've come a long way baby! When Demi Moore posed nude at 7 months for Vanity Fair in 1991, magazines were pulled from shelves and some covered them up with paper bags as if they were porn.
Pregnancy has, until very recent history, been something women concealed. Hello Grace Kelly hiding her belly with her Hermès bag.
Ironically, after M.I.A., I switched over to Masterpiece Theatre where a character was talking of her daughter's impending confinement. I do believe the Grammys would've given Victorian ladies the vapors.
The actual process of labor and delivery were very important to aristocratic families of the Victorian era. Many would travel to London weeks before to stay with friends throughout the final few weeks. The purpose of this journey, called going to town....The house had to be prepared very specifically to accommodate the pregnant woman and her husband, friends, family, the doctor and his team of medical attendants. Not all women actually made the trip to London or to an alternate location to deliver, and therefore many rearranged all of the rooms and furniture in their own house to prepare for weeks of confinement. Confinement was the term used to describe the last few weeks of pregnancy that were spent in the bed of a specially prepared house. (work cited: Lewis, Judith S. In the Family Way: Childbearing in the British Aristocracy, 1760-1860 . Rutgers University Press. New Brunswick, NJ, 1986.)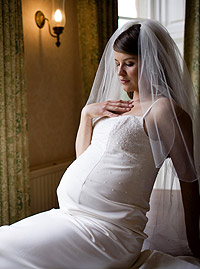 Confinement?! Heck no! Today a cottage industry has popped up around outfitting and photographing pregnant brides-- and not necessarily in blousy, drapey dresses, but belly-hugging designs that celebrate the baby-to-be.
I think the next wave of feminist empowerment is not with words but with images. M.I.A. did her own version of "going to town" last night and it was at once shocking and amazing. (Check out some of the comments, "She should be ashamed for being so disgusting.")
If a woman, hours away from giving birth, can perform alongside the boys and manage to bring down the house, I'd say we just made strides in breaking down another image of the more delicate sex.