The Reclaimed Glamour Of Architectural Salvage
A few years ago, I found myself in an artist's studio in central Baltimore, browsing a collection of vintage mahogany gear molds the artist found in an abandoned warehouse somewhere in the city. That day, I took home one of the molds – it's now mounted in my dining room – and a reminder that the sad photos of decrepit factories and boarded up houses only tell part of the story.
Baltimore has a history of innovative approaches to real estate problems. In the seventies, the Dollar House Program led to the revitalization of several neglected parts of the city (some of which are now Baltimore's most popular – and pricey – communities). More recently, a vibrant architectural salvage industry has sprung up around the city. In addition to small, focused operations, like the artist I found selling those restored gear molds, Baltimore his home to several impressive architectural salvage organizations.
These organizations collect furniture, artifacts, and architectural elements from buildings that are slated for destruction or renovation. They usually pay for what they collect, but also provide a service by removing some of the stuff from the building.
The salvage companies then resell the goods, either as-is or after some cleaning and/or repurposing. (The NatGeo show "Abandoned" follows a Pennsylvania architectural salvage company through the whole process.)
One of Baltimore's best known salvage operations is Housewerks, a carefully curated shop (and workshop) located in a nineteenth century building that once housed the Chesapeake Gas Works. Owners Tracey Clark and Ben Riddleberger scout the city (and beyond) for furniture and architectural components that are interesting – and glamorous. (The surroundings at Housewerks are dramatic enough that the space is frequently rented out for parties and weddings.)
"There's such an elegance to old pieces that isn't in evidence today," says Meg Fairfax Fielding, the author of the Pigtown Design blog, and a close friend of Clark and Riddleberger. "It's about buying the elegance, craftsmanship and workmanship of a bygone age. Even in the most mundane industrial pieces, you find beautiful patterns engraved on the gears, or an elegant swoop to a leg of a work table. There was much more care taken when making and designing an old industrial piece."
Baltimore artist Sean O'Harra turns salvaged materials into gorgeous furn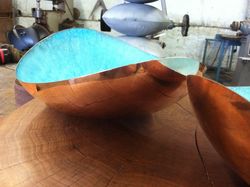 iture and home accessories, all of which are imbued with a sense of history, thanks to the reclaimed wood and metals he chooses. "Old materials, like old growth woods, have more character," he explains. "Sometimes they're filled with nails and they might be hard to work with, but they have a better feel. It's like they had a past life."
O'Harra and Fielding agree that people are drawn to the inherent glamour of vintage materials, whether they're raw or have been reworked to create something new. "We're honoring our past and what came before us," says Fielding.
But both add warnings. Fielding notes that, like so many other things that are glamorous on the surface, architectural salvage requires a great deal of dirty, gritty work for both sellers and shoppers. "You have to be willing to pick through stacks of old marble, old bathtubs and old mirrors to find the piece you are looking for," she says. "Most salvage yards are filthy!"
O'Harra's concerns relate to the popularity of vintage materials and what that means for quality. "A lot of antique shops and pickers jumped on this bandwagon and make things that people see as interesting. But a lot of times, I think there's not a good marriage between materials. People eat it up because it's aged, but it doesn't always look aesthetically pleasing to me."
O'Harra also laments the increased popularity of newly made objects with a vintage look, which is at odds with his environmentally-conscious approach to reusing materials. "A lot of what you see is not vintage – it's recast materials made with new wood. That's not the right thing. These are one-off objects that shouldn't be mass-produced."
There's no doubt that architectural salvage has been good for Baltimore as a city and good for the individuals on both ends of the salvage transactions.
But together, O'Harra and Fielding's comments raise good questions: What would happen if a company mass-produced vintage "style" furniture while adopting a careful, detail-oriented, old-fashioned approach to construction?
Is that combination - mass-production and high-quality construction - even feasible?
And would it be a good thing overall? Or would it detract from the glamour of true vintage pieces?
[Photos: Reclaimed elevator car and metal chair at Housewerks: Meg Fairfax Fielding/Pigtown Design. Reclaimed copper bowl: Sean O'Harra.]