The Vulgar Versus The Tasteful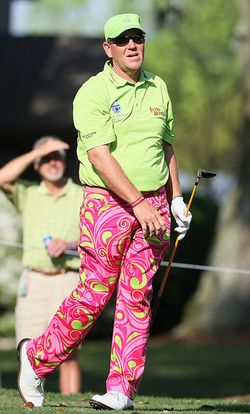 In the 1980 comic movie Caddyshack Rodney Dangerfield's character played a loud-mouthed, nouveau-riche real-estate tycoon who disrupts the decorum of a country-club golf course. Great touches in Dangerfield's portrayal were brightly colored clothes and flashy cars.

Now life is imitating art as American golfer John Daly has become a representative of Loudmouth clothes. Virtually all of Loudmouth's pants have a clown-like character which makes Dangerfield's movie outfits look almost restrained. The psychedelic pants shown in the photo are so garish that most men would be embarrassed to wear them as pajamas.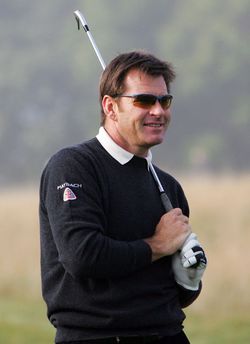 Golf has long been a relatively moneyed sport, and if you watch a telecast of a major golf tournament the main sponsors will inevitably be investment firms, luxury cars, expensive watches, and golf equipment. Since much golf is played at country clubs, proper dress is usually tasteful, occasionally even a bit dapper. Here is British player Sir Nick Faldo looking as glamorous as his title suggests he might (he was knighted for his services to golf).
Although some brightly colored golf clothes in solid colors are seen on tournament broadcasts, Daly's outfits make him look as if he has wandered in from some other cultural universe. One of Daly's nicknames has been 'wild thing,' and it is a tribute to some quirk of his personality that he can manage to play great golf while wearing clothes that make him look like a caricature of bad taste.
[The photo of John Daly is by Flickr user Keith Allison and is used under the Flickr Creative Commons License.]