DG Top 10: Glamorous Foods
Editor's Note: With this post, Kit Pollard, who doubles as a food blogger and columnist, kicks off a new DeepGlamour feature. Got ideas for other Top 10 lists you'd like to see? Want to guest blog one of your own? Email me at virginia-at-deepglamour.net.
Cheetos, grilled chicken breasts, the handfuls of nuts we grab to get through the workday - most food is forgettable at best.
But not all of it. Food, like clothing, can rise above its role as something that's simply necessary for survival. Fabulous food can elevate an event from run-of-the-mill to glamorous.
And what makes a food glamorous? According to a quick, and completely unscientific, poll of several glamour-loving food bloggers, it's all about decadence and degree of difficulty. If it's hard to find, has a short season, or is especially rich in flavor, it's probably glamorous.
Here, in declining order, are the top ten most glamorous foods: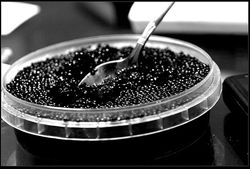 10. Chocolate ganache. Decadence defined.
9. Asparagus with hollandaise. When a seasonal vegetable is topped with a rich sauce, it's always glamorous.
8. Chocolate-covered strawberries. The sweet version of asparagus in hollandaise.
7. A piping hot, chewy, crusty baguette. Preferably from Poilane in Paris.
6. A perfect tomato, just from the vine. Juicy and ephemeral.
5. Butter-poached lobster. So hard to cook perfectly, and so amazing when it's just right.
4. Foie gras. Rich and controversial.
3. Oysters – dressed up (Rockefeller) or down (on the half shell with mignonette sauce). Not-so-pretty, and certainly an acquired taste, but special nonetheless.
2. Truffles. Heady, hard to find, and outrageously expensive and exclusive.
1. Caviar. With or without blinis (but preferably with champagne), these tiny bubbles are foodie shorthand for glamour.
What do you think? Anything missing? Misplaced? What's your idea of a perfectly glamorous meal?
Thanks to fabulous food and design bloggers Meg, Dara, Julie, and Kathy for their help with the list.
["Russian Black Caviar" by Flickr user Cavin used under the Creative Commons license.]