Vintage Glamour For The Modern Woman
Stylists often advise against dressing in a head-to-toe vintage look, which is advice I hate. And in the same breath that people will exclaim how much they admire vintage glamour, they say they could never do it themselves. Well, why not? Why should the glamour of a bygone era be unachievable now? I decided long ago to do vintage looks whenever I please, so long as they "fit" the occasion. Though I would certainly attempt an ornate, historical era for a special occasion, the eras I like best are the 1920s, '30s, and '40s, in particular ca. 1925 to 1945, flapper era through the war years. So I've chosen a few conservative daytime looks from those eras, plucked from my Pinterest boards, that I think are most accessible.
I would argue that the 1920s were the start of the modern fashion era and that styles from that era forward are relevant and appropriate for almost any modern setting. 1920s styles could be sleek and pared down or ornate and hand-crafted, and day dresses and suits were abundant in the era. So deciding on what 1920s looks to wear to, say, the office shouldn't prove difficult. For example, see this Lucien Lelong suit and sweater ensemble. While the suit jacket is obscured in the photograph, the skirt certainly looks simple and professional enough, with the hemline falling just below the knee. And the sweater features a bold yet tasteful geometric design. Though I probably would not wear the hat all day indoors, I would not hesitate to wear this look – including the little clutch handbag and simple chain necklace – to the office or a business meeting during a cool-weather month in Washington, D.C., which is where I work.

See also these two mid-1930s day looks. One, a solid, light color, tea-length skirt with a front kick pleat and self-belt with square-shaped metal buckle. It's paired with a solid, dark color blouse with a high color and large, statement buttons. The shoes are dark pumps in a classic style. The second outfit is a sailor-inspired day dress in tea length, paired with classic spectator pumps and a smart hat. Again, I would not hesitate to wear either of these looks for business purposes, though I would probably skip the hat and gloves unless I wanted to go "full (vintage) drag."
The 1940s day looks I might chose include a beige suit with sharp shoulders, three-quarter length sleeves, and a nipped-in waist. The matching skirt is front-pleated, with the hemline just below the knee. The accent color of the hat, ascot, and gloves is a dark green. The hat and gloves are a bit fussy for a modern business look, but I would do the ascot or else a blouse underneath.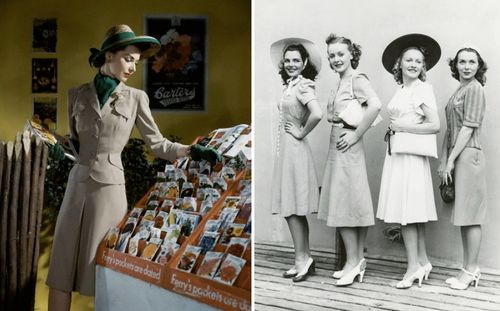 The second 1940s show four comparatively casual, daytime looks that could be worn just about anywhere, hats optional.

Finally, I've included a photo of myself, just to show this can be done. I was headed to an Art Deco Expo in 2008, wearing a 1930s day dress and hat. I'm careful where I wear original garments, as they tend to be fragile. But the dress I'm wearing would be fairly simple to re-create in new fabric. The handbag was a Whiting & Davis metal mesh in white, a fairly easy style to obtain. The jewelry was modern and of a simple, classic style. The shoes I wore that day were modern, inexpensive Mary Jane pumps.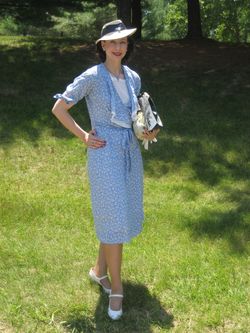 The main difficulty would be in finding these vintage looks. For ornate vintage styles and looks, there's rarely a good substitute for the original, except for sellers who specialize in reproducing bygone eras (such as ReVamp Vintage). For simple styles, it's often easier to find modern garments that look period-appropriate than to find original vintage garments that fit and are in good condition. Personally, I mix and match reproduction and original and sometimes sew my own. Vintage patterns of nearly all eras seem abundant on Ebay, Etsy, and many other vendor websites.

I would be delighted to see more people incorporate vintage styles in modern settings. I would, however, have an important word of caution on attempting these looks. In my opinion, it's important to approximate the hairstyles (and, for that matter, the shoe styles) of the era one is trying to achieve. Or at least the hair length. They clearly "go" together – which is one reason we perceive them as so elegant and polished, no? There's no point in doing a head-to-toe vintage look only to ruin it with an incongruous hairstyle. Plus, it would distract me to no end (in a bad way), and I just know (or, let me imagine) you wouldn't want to do that to me.