What Would They Have To Pay You To Wear This?
Fashion stylist Angie at the excellent YouLookFab.com blog recently challenged readers to tell her how much they'd have to be paid to wear this outfit in normal, everyday life. Among the first 70 replies prices ranged from $100 to a cure for cancer ("no amount of money would be enough"). Amazingly, a real online retailer charges £135 for the hot mess.
The outfit is hideous and inappropriate to pretty much every context. It also sends a strange signal about the wearer's identity (Hooker working Comic-Con? Unfortunately paired Project Runway model?).
But what about outfits that aren't downright ugly, just unconventional or signals of the wrong identity? How sensitive are you to social expectations? To making sure your wardrobe matches your self-image? How do you balance those two factors when identity and taste clash with convention? When I interviewed cosplayers at Anime Expo, several told me they wished they wear Edwardian-inspired fantasy outfits every day. On a more mundane note, I myself spend most days in jeans and T-shirts even though in theory I'd rather wear suits or dresses. It just seems strange to dress up to work at home.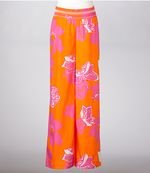 So, to add to Angie's question, here are some less outre outfits to consider.

These pink and orange Lily Pulitzer silk pants sell for $98. I'm sure they have many fans, but they're definitely for people with very specific tastes. And they say the wearer is either a super-preppy or a wannabe. Along similar lines, consider madras pants
, available for both men and women.
What would someone have to pay you to wear them to work? Or would you happily pay for the privilege yourself?

Moving on to a different taste subculture, how about this Renaissance Faire-influenced upcycled T-shirt dress? I love the color palette, and the "medieval style liripipe hood" and giant bell sleeves have a certain romance. But for everyday office wear? How much?

Finally, no such discussion would be complete without the classic Juicy Couture velour tracksuit, complete with rhinestone-encrusted crown. Everyday glamour? Or the wrong sort of signal? What's your price?

Got an outrageous outfit to share? Please add your own challenges, with links, in the comments below. We'll award a DeepGlamour goody bag to the one we like the best.

---advertisement---