You Read It Here First: The Remarkable Story Of J.R. Martinez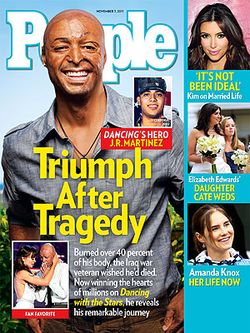 I don't follow Dancing with the Stars, so when I saw J.R. Martinez on the cover of last week's People I didn't realize he'd been in the news lately.
Isn't that the guy Charles Oliver wrote about for DeepGlamour? I asked myself. And, sure enough, it was. For those of you who missed it, here, straight from J.R.'s hometown of Dalton, Georgia, is that 2008 guest post about how an injured veteran turned himself into a soap opera actor.