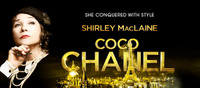 Lifetime offers up a Chanel MOW which got bad reviews a month or two ago. All you need to know is what Lifetime's website tells you:
"Coco Chanel" is the rags-to-riches tale charting the rise of one of the most influential fashion icons of the 20th century. From her humble childhood in a French orphanage, through her early days as a young dressmaker's assistant, to her passionate and tragic love with a dashing Englishman, and ultimately to her success as a pioneering icon, "Coco Chanel" is the story of a glamorous woman who was hard to love and harder to ignore.
Somehow, I think I can ignore this with little or no effort.
Shirley MacLaine's a natural choice as she'd played a French streetwalker in Irma la Douce and thus, could manage the lingo. According to the NY Post, her accent slips like a supermodel on the catwalk.
MacLaine, ever the sensitive one, launched her own jewelry line, after being inspired by Chanel's jewels. Although I doubt that Mlle. ever said this:
The jewellery goes on the tops of the fingers, and these are all reflections of the chakras and our inner power.