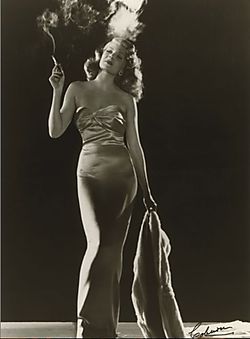 Through this Sunday, October 5, the Santa Barbara Museum of Art is exhibiting studio portraits and movie stills from the John Kobal Collection of classic Hollywood photos. In the '60s and '70s, when Golden Age glamour was out of fashion and studios were dumping their archives, Kobal bought and preserved prints and negatives, befriended aging stars and photographers, and documented their stories. Most of the classic images you see reproduced today come from his archives, now licensed by Getty Images. (The George Hurrell photos occasionally featured on DG are exceptions. They're courtesy of our friends at the Pancho Barnes Trust Estate Archive.)
The photos all present idealized versions of the stars--but what a range of ideals they represent, from the refined elegance of Grace Kelly to the sultry seductiveness of Rita Hayworth's Gilda, from Vivian Leigh in hyperfeminine white ruffles to Marlene Dietrich tough and dominant in a crisp blouse and slacks. And those are just (a few of) the women.
This slideshow represents a small sample of the exhibit's images. For more, see the John Kobal Foundation site.