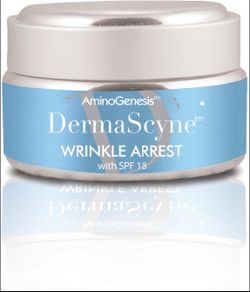 Congratulations to DG reader Deborah H., who won Sothys Bath Scrub and Gel in our
previous contest
.
"Always wear sunscreen" is a motto to live by, especially if you have skin like mine and double especially if you use wrinkle-reducing products.
AminoGenesis's Wrinkle Arrest is a new moisturizing day cream that helps reduce the appearance of fine lines, wrinkles, discoloration and other signs of aging, while also providing SPF 18 and broad spectrum sun protection. It has earned the AAD SEAL OF RECOGNITION® from the American Academy of Dermatology for its sun-protection benefits.
Now, thanks to the glamour-loving folks at KMR Communications, a DG reader can win a jar of Wrinkle Arrest (retail price: $59). Just be the first one to email me at virginia-at-deepglamour.net with the answer to this question: Who discovered ultraviolet light?
Contest open to U.S. residents only. The prize will be shipped directly from KMR Communications.