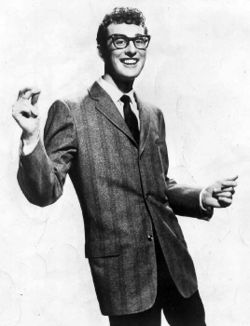 Once, listening to the radio while driving, I tired of a song in which the drummer was repeating a common ride pattern on the cymbal, and using his drum set to add other standard percussion patterns. Hoping to hear something more inventive, I put the radio on scan, deciding I would listen to the first song I found that didn't use the ride cymbal. After going around the dial twice without success, I turned the radio off.
"Peggy Sue," recorded by Bully Holly and the Crickets in 1957, has been ranked as one of the greatest songs of all time. Many critics consider it Bully Holly's best recording (he's seen here looking his nerdy best). Jerry Allison's restrained drumming on the recording has been one of its most praised elements.
In his 1987 book The Triumph of Vulgarity: Rock Music in the Mirror of Romanticism Robert Pattison searches (with considerable sympathy) for the ideological reasons that contemporary culture has come to value music and fashions that he feels are "crude, loud, and tasteless." He seems to enjoy rock music, but intellectually he sees it as an expression of "Romantic vulgarity." Pattison states that "refinement is the art of making reasoned exclusions." He writes that "A black dress with a string of pearls is timeless good taste because of the calculated exclusion of all color." He cites a Hawaiian print shirt in which "gross, lurid colors mix without restraint" as the "epitome of vulgarity."
Pattison's views make it particularly interesting that rock critics have praised Allison highly for limiting himself to a single drum when recording "Peggy Sue." They feel that by confining himself to one percussion color, he helped the song have a distinctive sound. Given similar inventiveness on other recordings, this was clearly a conscious choice. And he had the self-discipline to maintain his pared-down effect—he didn't unthinkingly throw in other percussion sounds.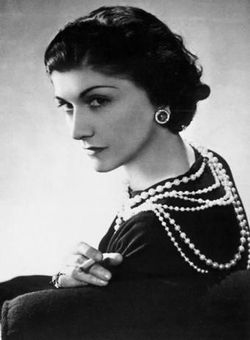 Coco Chanel once said, "When accessorizing, always take off the last thing you put on." Potentially elegant outfits can be disastrously weakened in effect by poorly chosen or overdone accessories. Avoiding this mistake is pithily summed up in Chanel's statement, "Elegance is refusal." Chanel is seen here in a black dress and multiple strings of pearls. The extra touch of her earrings is superb—they're a great size and shape for the ensemble. When well chosen, accessories can be the final touches that make an outfit stunning. But choosing well means knowing which pieces will add to an ensemble's effect, which pieces would detract, and, crucially, when to stop adding more.
In "Peggy Sue" Allison's restrained use of percussion allows us to better hear the colorful way that Holly uses vocal "hiccups" and playful changes in the sound of his voice. (Listen to Holly change vocally to a teenage boy near the end.) The following live performance is a bit less fascinating then Norman Petty's recording (there Petty controlled the dynamics precisely, and Holly also adds a deep-voiced man at the end). But as a slice of history, this video reminds us that there once was a time (not that long ago) when rock and roll was a new style of music. Switching back to fashion, notice how demurely the formally-attired dancers pose themselves in the background. Seeing them, it's hard to imagine that the twist craze would arrive just two years later.