Shown at the Paris Fashion week last Thursday, the Louis Vuitton Fall/Winter 2010 Menswear Collection immediately caught my eye. Not because I am particularly fond of Vuitton (like too many other fashion houses, it has fallen prey to the Plague of Excessive Logos), but rather because of the references to Vienna.

Dominated by narrow-waisted suits, crisp riding boots and structured bags, the collection is described as having been inspired by Vienna's Age of Splendor, and by the Vienna of today. As Vienna has been my home on and off for the past several years, I could not help but ruminate on my own impressions of the city's style, and on the implications of its new status as Fashion Muse.

Over the course of my life in Vienna, I have continuously struggled with how I relate to it. On some level, it has become deeply familiar and even quite mundane, while on another level it has remained a romantic hallucination. In many ways, Vienna is a continental European city like many others – rich in heritage but dynamic in contemporary culture. The streets are full of young trendy people, the museums offer impressive lineups of cutting-edge international artists, the UN Headquarters looms large, and no matter where you are, you can be certain that a Starbucks or an H&M is not terribly far off. And yet, Vienna is not quite of this time. The spirit of the Austro-Hungarian Empire remains present, its rigid, explosive splendor running through the city like a rogue undercurrent.
Experiencing Vienna in this manner is like having persistent double vision, or perhaps even triple vision – whereby reality, history and historical fiction co-exist and struggle for domination over the cultural landscape.
When I ask myself why this is so, one obvious thing that comes to mind is the architecture. Unlike that of other German-speaking cities, Vienna's architecture has largely remained intact after the Second World War. Enormous neoclassical structures erected for the sole purpose of glorifying the Empire continue to surround the city center along the Ringstraße. The towering white marble, the black wrought iron, the vast stretches of cobblestone, and the tall chestnut trees, create a backdrop that insists upon itself and undermines the passage of time. In a sense, it is a romantic backdrop. But the brand of romance is the kind that makes one feel overpowered and somewhat uneasy. The architecture - both in its grandiosity and in the sheer fact of its continuity - sets a mood over the central district that even an army of neon Starbucks and H&M signs cannot overpower.
Granted, architecture can be seen as a passive influence. But there are other areas where Vienna's anachronistic atmosphere is maintained by choice. Take, for instance, the phenomenon of the Viennese Cafe. One can walk into any number of Viennese cafes that look as if they have remained basically unchanged since the 1920s: gilded interiors, plush red upholstery, starched white tablecloths, waiters in tuxedos, sugar cubes in tiny silver bowls, newspapers attached to wooden holders... the head spins from the elegance, and extravagance of it. And the elaborate coffee nomenclature puts other countries' terminologies to shame. (When in doubt, just order a Melange - and stay away from what the Viennese call a Cappuccino unless you want your coffee made with pure cream instead of frothed milk.)
It is not just the look of such a cafe that functions like a time machine, but the atmosphere as well. In a Viennese cafe, you will be called by your title. You will not encounter crammed floor space, even if it means that the cafe is serving only a quarter of the patrons that it could be serving. And you will never be rushed to free up your table, even if you have been nursing the same cup of coffee for hours while a crowd of hopefuls queues outside. And no, such places are not gimmicky tourist traps; they are perfectly normal cafes where the Viennese themselves go to relax.
And then of course, there are the head-turning persons you see in Vienna, the likes of whom I have not encountered elsewhere: from the ladies in floor-length fur coats and sculptural hats who look as if they've walked out of a silent film, to the serious men with heavy, intense gazes and thick streaks of gray in their hair regardless of their age, to the people wearing traditional national costumes as formalwear on a night out. True, the "retro" look has been internationally popular for over a decade, but I feel that in Vienna the look isn't "retro" at all, as it is done entirely without irony. The mixing of the old with the new simply reflects the city's nonlinear sense of time and its playful attitude towards contemporary realities.
An interesting trend I have noted, is how many fashion ateliers in Vienna are simultaneously involved in costume design for the theater. Of all the arts, theater probably occupies the most important position in Vienna, and has enormous cultural influence. Perhaps this explains why even the most contemporary boutiques seem to be at least partly inspired by dramatic turn of the 20th Century style: the designers who make the clothes for the streets are the same ones who create the costumes for the local stage. It would also explain why the past that mingles with Vienna's present seems to be not so much a historically accurate past, as a fantastical one: a romantic notion that the city embraces and projects back onto itself.
Getting back to the Louis Vuitton Fall/Winter 2010 Menswear Collection, I think that in large part it succeeds in portraying all of these things. The clothing is architectural, theatrical, and communicative, and there is a conceptual depth to it that exceeds what I have come to expect from Vuitton. The garments are rigidly tailored while suggesting fluidity, tightly closed while expressing a potential for openness. They evoke Sigmund Freud's writings on hysteria, Egon Schiele's images of tortured lanky youths, Gustaf Klimt's gilded motifs, and Franz Kafka's Metamorphosis while mixing traditional and contemporary materials and employing deconstructive techniques.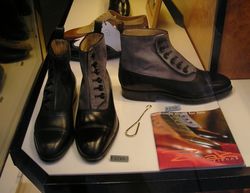 The LV collection is rather impressive really. But... Well, quite frankly, it brings to mind what has been available in Vienna for as long as I have lived there. If you want Viennese splendor that embodies all the anachronistic complexity the city has to offer, visit Vienna itself and walk through some of the neighborhoods that are lined with independent boutiques carrying Austrian designers, including the areas around Neubaugasse and Kettenbrückengasse. Viennese style is at its best in its natural habitat.
[LV runway images via Louis Vuitton/ Antoine de Parceval; all other images belong to the author]