Mattel's Barbie is an endlessly fascinating, big tent kind of a brand (and one we've written about a lot here on Deep Glamour). With 50 years under its pink belt and several generations of fans, it's understandable that the people behind the brand would get a little experimental from time to time, especially when it comes to the higher end, limited-edition products.
I wasn't surprised, then, that today's mail included a small catalog called "Plastic Fantastic," including a series of Barbie-themed products designed for the serious collector. The $750 "kitsch and keepsake" print featuring the original Barbie? Makes sense. A refurbished 1978 Barbie Dream House for $2,000? That's cool in a few ways and definitely resonates with the brand.
But this: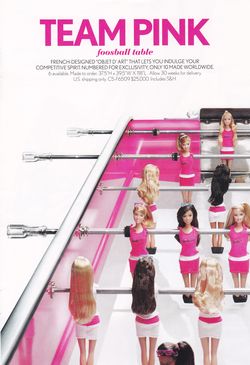 A limited edition (Only ten made! And only six of those ten are available!), $25,000 "Team Pink" foosball table? I don't get it. For one thing, "Team Pink" equals Victoria's Secret in my mind. While VS has its own brand of glamour, it's not quite the same as Barbie's (or it shouldn't be, in my opinion). Plus, foosball is as frat-housey as beer pong, which doesn't make the game itself wrong, but it doesn't fit with Barbie's wholesome + glamorous image, either.
And most importantly, aren't all those armless Barbies are creepy? Or is the appeal of this "French-designed 'objet d'art'" just going over my head?