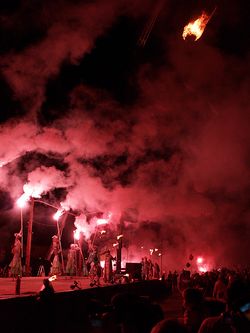 I have experienced two deeply impressive nighttime events that combined a procession, fire, and a sense of mystery. One was the Christmas Eve Procession of the Virgin at the Taos Pueblo. In preparation for the procession, conical towers of wood up to two stories high were built throughout the plaza, and after sunset these were set on fire. The heat they produced was incredibly intense, melting the snow and frozen ground and sending fantastic spirals of smoke and steam swirling into the night air. The plaza was filled with fire, smoke, and hundreds of people. Then the church doors opened, and a statue of the Virgin Mary was carried out of the church and around the plaza, with guards firing their guns into the air (using blanks) to frighten off evil spirits. The combinations of cold and heat, night and fire, and Catholic and Native American traditions made a magical impression. (Visitors to this procession are forbidden to take photographs, but you can see an evocative photo of it here.)
The photo shown at left here is from another magical event: the Tucson All Souls Procession, which blends elements of Catholicism and carnival with the spirit and imagery of Mexico's Dia de los Muertos. In 1990 a local artist organized a small procession to honor an artist friend who had died. Since then the procession has grown to an annual event that attracts 20,000 people.
Much of the charm of the small original event remains. Local artists participate and create interesting visual objects, which contrast greatly with the cliché-ridden kitsch that typifies so many American parades. Many of this procession's "floats" have a dark edginess. Examples include an ominous pterodactyl whose wings span much of the street (a clever sculpture on a rolling steel frame), and vehicles that appear to have been pieced together after an apocalypse.
Many of the people who come to watch the procession wear costumes and makeup, making the crowd an essential part of the experience. The photo at left shows my teenage granddaughter Carly in the makeup she wore to attend this year's procession. You don't have to wear costumes to attend, but being in the presence of thousands of people whose costumes and makeup evoke the dead is a remarkable experience, and it's fun to join in.
The procession changes each year, and some years the presence of fire pushes the experience into something otherworldly. The onlookers join the procession, which moves along a street that goes under a WPA railroad bridge. One year women dressed in Grecian costumes stood on the pedestals of that bridge, each of them holding aloft a flaming torch. Along the bridge dancers were swinging flaming pots on chains, making circles of fire. Looking at these strange apparitions above us as the street dipped down, with a little imagination it felt as if we were descending into the underworld.
The procession ends in an open space, where there is some sort of entertainment. Shown here from the 2009 procession are costumed acrobats on stilts, and a fire-pot twirler in the foreground.
I suspect that we have a visceral reaction to nighttime rituals that include fire and strange costumes: a reaction that links back to prehistoric rites that took place by firelight. If I, as an adult, can find my imagination inflamed by strange-looking creatures emerging from dark, smoke-filled shadows into the unsteady light of bonfires and burning torches, imagine what a lasting impression such a scene could make on a child. If stagings such as these were involved, no wonder so many of our ancestors believed that magical powers were real.
[Photos of the All Souls Procession by complicity. Used under the Flickr Creative Commons License.]