I've been enjoying Christian Esquevin's Silver Screen Modiste blog, which he started in December 2010, for the past six months or so and, thanks to a Google search, knew that he lives in Southern California (he's director of library services for the city of Coranado). So when I went to the Debbie Reynolds auction, I made a point of looking for him in line. Sure enough, Christian arrived not long after I did. In our conversation there and in his subsequent blog posts on the auction, he provided valuable insight for my Bloomberg View column. I also learned that he has a large collection of costume design sketches, which are a beautiful art in themselves. Christian kindly agreed to share a few sketches (don't even think of reusing them without permission), as well as some thoughts on the art and history of movie costumes.
DG: How did you get interested in Hollywood costumes?
Christian Esquevin: My interest came relatively late. My great-aunt had been the head cutter-fitter at the RKO studio during the 1930s. Although I had heard some of her stories growing up, it was not until she bequeathed me many of her photos and costume sketches that I became interested. This interest grew into a passion as I researched many of the unknowns about these beautiful items.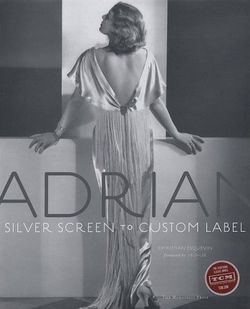 DG: You've written a book about Adrian
, who with Edith Head is probably the most famous Hollywood costume designer. What makes his work particularly significant?
CE: There were, and are still, many great costume designers for films. Adrian, I believe, was a genius. He combined his artistic and fashion abilities with the needs of the movie character and the actor playing the part to make indelible images. I truly believe that along with costume designer Travis Banton he created the modern look of glamour.
You can actually look at a photo of some of their creations and say that there was no precedent for such a look – that's where modern glamour started. Take any of several photos of Jean Harlow, Greta Garbo, Marlene Dietrich, or Carole Lombard for example. The look of knock-your-eyes-out glamour is there, and it's still the look today. And with Adrian, you can look at fashion at the time (late 1920s and 1930s) and draw the connection between his costume designs for the stars on film and what women wanted to wear around the world. His looks have been knocked-off for so long that people nowadays can no longer make that connection. Yves St. Laurent was heavily influenced by Adrian in the 1960s, but it's YSL that gets the mentions.
Los Angeles is always being compared unfavorably with other cities in fashion creation and influence. But in the 1930s and early 1940s, Los Angeles and Hollywood were where fashion trends were started, and that was due to the influence of costume designers like Adrian.
DG: You're now writing a book on Irene, Walter Plunkett, and Helen Rose. What should people know about them?
CE: These three costume and fashion designers were as influential and accomplished in their day as Dior or Schiaparelli. They all led fascinating creative lives designing the looks of movie-star icons, yet who hears of them today?
If your resume stated that you created the costume designs for Gone with the Wind, Singing in the Rain, and King Kong among many others, as it would for Walter Plunkett, people would be impressed. Or that you designed Grace Kelly's wedding gown, much of Elizabeth Taylor's early wardrobe, and for such stars as Lena Horne, Judy Garland, Lana Turner, Cyd Charisse, Doris Day, Esther Williams, Debbie Reynolds, and many others, people would take notice.
As for Irene Lentz Gibbons, known simply as Irene, it was said at the time that she dressed everyone in Hollywood. [The sketch to the left is one of Irene's designs for Easter Parade.--vp] Since she worked both as a costume designer and a fashion designer with her own boutique and then her own fashion business, she really did work with many leading ladies. Her customers and stars included Marlene Dietrich, Loretta Young, Carole Lombard, Dolores Del Rio, Ava Gardner, Greta Garbo, and many others. When you look at her gowns and suits you'll quickly see why she was so admired. They are impeccable and drop-dead gorgeous. While each of these designers is fascinating in their own right, they all worked at MGM at the same time for a period. What a combination – a unique time and place in history that will never be repeated. I just couldn't leave that story alone.
DG: You collect costume design sketches. How do the clothes change from sketch to actual garment to what we see on film? What's the difference from medium to medium?
CE: I'll talk about the process during the classic, "studio system," which is what I'm most familiar with. At that time the studios employed virtually all the talent they needed on a long-term basis. In the wardrobe department this was a vertical integration, so that a designer had one or more "cutter-fitters" they worked with, and seamstresses working under them. These skilled cutter-fitters made muslin patterns based on the costume sketch a designer created. And consider that the costumes fabricated could be Elizabethan, classic Roman, or satin glamour gowns.
The costume sketch itself could be rendered by a sketch artist that had the artistic ability to paint figures and costumes. In these cases the sketch artist had to develop a close working relationship with the designer. Some designers wanted to do the sketch themselves. Adrian, for example, did not want anyone else "interpreting" his designs.
After the cutter-fitter used the sketch to devise patterns, the seamstresses would sew the final fabric based on the individual pattern pieces and then sew them for the fitting. Beaders and embroiderers would also base their work on the sketch.
Still, changes came about in the movie-making process. So some costumes were later modified from the original sketch for the movie. Edith Head liked to change her costume designs as she went along. Adrian wanted his costumes to look just like his sketch.
What is particularly fascinating about having an original production-made costume sketch is that this is an artifact that was handled by the stars, the director, often the producer, and the artisans that made the costume itself, as well as the designer. These pieces often have approval initials from these individuals, as well as budget information on the back. They are unique pieces of Hollywood film history.
DG: Can you share a few of your favorite sketches with our readers and tell us a bit about them?
CE: I have many sketches, and each is special in its own way. Although they have traditionally been called "costume sketches," they are really water-color paintings, with more attention taken than would a pencil sketch. They were nonetheless working tools, and equally important, they represented the costume designer's original design. I emphasize this because there are also pieces floating around that were often done many years after a film had been made. These were often done by the designers themselves as commemorative illustrations, or because they did not possess the original sketches, and were made for some of their fashion shows. Since these were done as show pieces, they are typically exact reproductions of how the costume looked on film. But even as working tools, the sketches are usually beautiful – they had to "sell" the director and star on that look.
I have picked a few that I like and I think will be of interest to the viewers, or that illustrate a point I want to make about costume designing and sketches. One of the icons of the movies is Sunset Blvd. with Gloria Swanson. The costumes were designed by Edith Head. This is the costume sketch for Gloria Swanson's opening scene in the film. It's interesting because it's not a regular dress but rather what was then called a hostess gown or hostess dress which was worn over pants. You only notice that when she descends the stairs in the movie. As with many of Edith's designs, the final costume was changed in that the interior lining was no longer a plaid but rather a leopard print.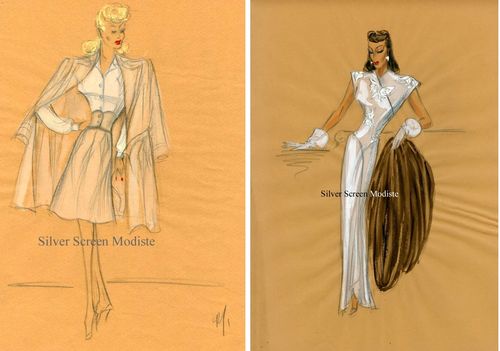 Here is another Edith Head costume sketch, done for Betty Hutton in Preston Sturges's The Miracle of Morgan's Creek in 1942 (left). Edith Head sketches are pretty rare from the early 40s. Over her long career her sketches look quite different. That's because she used different sketch artists over time and each had their own artistic style. Also, many costume sketches are never signed. When it was a real production sketch, everyone knew who the designer was, so it was not necessary to sign the piece. Sometimes that makes identifying a particular sketch difficult. The next sketch is also by Edith Head from this period, but there is nothing to identify who it was for or for what film.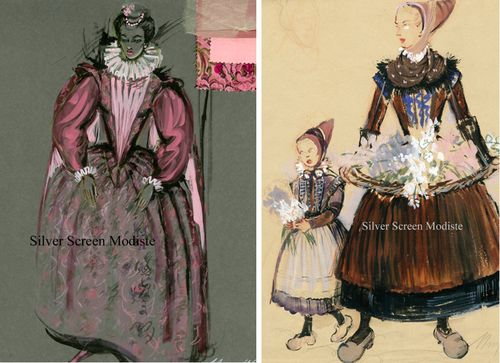 The next two are costume sketches designed by and rendered by Oscar winning costume designer Mary Wills. The first was done for Joan Collins in The Virgin Queen in 1955. Joan played Beth Throgmorton in the film. A fabric swatch is attached. This costume was one sold at the Debbie Reynolds auction. The next one was also from Mary Wills and was done for "extras" in the outdoor market scene in Hans Christian Andersen starring Danny Kaye. This is one of many sketches Mary Wills did for a variety of outdoor vendors that made the scene really come to life. The sketch looks more like it was painted on an easel at the actual Copenhagen market than a costume sketch in a studio.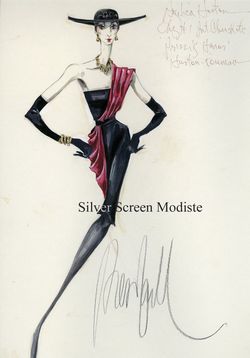 This sketch by Donfeld (Don Feld) was done for Angelica Huston in Prizzi's Honor. Donfeld's sketching style was very distinctive, with exaggerated long limbs. This sketch was probably done later than the actual film production sketch.

Here is a costume sketch designed by Helen Rose for Edie Adams in Made in Paris in 1966. The sketch was actually rendered by Donna Peterson, Rose's long-time sketch artist. Some sketches actually showed two views of the costume, or with and without a jacket or coat.
This sketch was done by William (Billy) Travilla for Sharon Tate in Valley of the Dolls in 1967. Travilla is famous for his costume designs for Marilyn Monroe, a couple of which sold for several millions at the Debbie auction.
DG: Are there any contemporary films whose costumes you particularly admire?
I really liked the costumes designed by Coleen Atwood for Alice in Wonderland last year. This was a challenge because of the fantastical nature of the story and the well established look of most of the characters, but she did a great job. Another "fantasy" type movie was The Tempest, with costumes designed by Sandy Powell for Helen Mirren, Felicity Jones, and the other cast members. Powell really created the fantastical look of these characters based on the Shakespeare play.
For more contemporary costume I liked A Single Man, with costumes by Arianne Phillips and directed by Tom Ford. You'd expect the best costumes to come with a Tom Ford movie, and these did not disappoint both for the men's and women's wardrobe. And for those period costumes that are close to the "Mad Men" rage, there's Revolutionary Road, designed by veteran costume designer Albert Wolsky for Kate Winslet and Leonardo DiCaprio. The one dress that has made the biggest splash over the last several years is Keira Knightly's green satin, backless gown from Atonement, designed by Jacqueline Durran. The movie was set in the 30s and 1940s, and this gown is really right out of the classic movies of that era.
The DG Dozen
1) How do you define glamour?
The original meaning of glamour was "to enchant" and that's what it's still all about. The person or the dress of glamour is one that captures attention and holds it in a mesmerizing and basically pleasurable way. It is strictly visual, so you know it when you see it without being able to describe it. That's one reason why new looks in fashion or glamour occur.
2) Who or what is your glamorous icon?
There are several, including classic icons such as Jean Harlow, Loretta Young, Marlene Dietrich, Gene Tierney, and Catherine Deneuve, and more contemporary ones like Charlize Theron, Halle Berry, and Marion Cotillard.
3) Is glamour a luxury or a necessity?
It is a luxury, but also a necessity in that it's a human need that many people pursue.
4) Favorite glamorous movie?
There are many, but I'll mention Dinner at Eight, The Women, Shanghai Express, To Catch a Thief, and The Thomas Crowne Affair (with McQueen & Dunaway).
[Questions 5, 6, and 7 omitted.]
8) Most glamorous job?
I think that even creating art, music, beauty, or fashion involves toil. Creating glamour is work, and displaying glamour oneself becomes a role. The most fun is being the person watching glamour.
9) Something or someone that other people find glamorous and you don't
Parties. I would make an exception for the "masked ball" parties that were held in France by such bon-vivants as Carlos de Beistegui during the first half of the last century, for which I was regrettably not around.
10) Something or someone that you find glamorous whose glamour is unrecognized
Formal dining outdoors for lunch.
11) Can glamour survive?
It will, but it's always in short supply.
12) Is glamour something you're born with?
No. But It helps if you're born in the right milieu. Mostly you acquire glamour through cultivation. Some people acquire it through the expertise of others. Garbo was glamorous on the screen, but it was Adrian that created that glamour for her.
[Sketches are owned by Christian Esquevin and used with permission. Do not even think of republishing them without permission. Tumblr counts as publishing.]