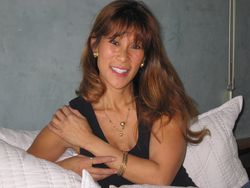 Jewelry designer Sandy Leong has lived in Manhattan for nearly two decades, but she still exudes the fit, outdoorsy vibe of her native Pacific Coast (Portland to Anchorage to San Francisco as a child). So it's not surprising that she brings a combination of urban refinement and subtly organic shapes to her line of jewelry--a business that grew from a hobby she developed while looking for a creative outlet once her kids were in school. Now her designs are turning up on such stylish celebrities as Fergie and Gabrielle Union and in the pages of magazines including O, Lucky, and People. (Having followed Sandy's business, I was excited when, during an American Airlines upgrade, I spotted some of her teardrop earrings in the pages of Celebrated Living, American's magazine for its first-class cabin.) Sandy shared her thoughts on the glamour of jewelry, building a luxury business in tough times, and why she believes in gold.
DG: What's the appeal of jewelry?
Sandy Leong: "The only thing that separates us from the animals is our ability to accessorize." My favorite line from Steel Magnolias. And I think that really applies to the appeal of jewelry. Along with shoes, it really has the biggest impact on your outfit.
DG: How did you get interested in designing jewelry? How did you learn jewelry design?
SL: When both my children were in school full time, I found myself wondering what I used to do before I had kids? A girlfriend and I both received the 92 Street Y catalog and decided to pick a class that we could both take together. It turned out to be Jewelry for Beginners. That was nine years ago and from the first time I held a soldering torch, I was hooked. I've been taking classes there continuously and have also taken classes at the Jewelry Arts Institute in NYC.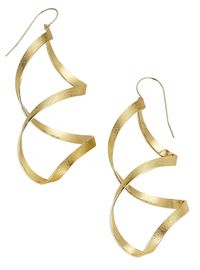 DG: How would you describe your design aesthetic?
SL: It's easy, simple, modern, and timeless. You can wear my pieces during the day to pick up the kids from school, go grocery shopping and not feel overdressed, but can also wear it out to dinner and evening functions and it adds just the right of amount sparkle and pizzazz. It's all made here in the U.S. with recycled 18k gold, too!
Although most pieces have a very organic feel in nature, I am also extremely influenced by the cut of my stones and the architectural style that surrounds the stone.
DG: Why do you work in gold as opposed, say, to both gold and silver?
SL: Gold has a very luxurious feel to it. I wanted my jewelry to be timeless investment pieces that would hold their value over time, whether sentimentally or financially. When using 18k gold, the finish doesn't tarnish and with care, will look and feel exactly like the day you bought it.
DG: Who is your customer?
SL: My customer is a successful woman who has her own money and is not afraid to spend it. She knows quality, is a trend setter, rather than a follower, and loves luxury and beautiful pieces. She's active, athletic and can't be bothered to change her jewelry for every event throughout her busy day. She wears her jewelry, but the jewelry doesn't wear her.
Gabrielle Union in an architectural square-cut ring
DG: What's the most difficult challenge you've faced as a new jewelry designer?
SL: The economy is a huge challenge! I launched my line in 2008 when conspicuous consumption was out of fashion. However, my customer is back and more cautious about making wise investments instead of trendy fads that come and go with the season. Also, most major department stores are consignment based and the financial outlay is tremendous for a jewelry designer trying to make retail presence and with limited resources.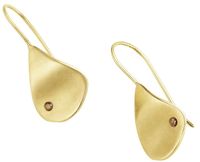 DG: Jewelry seems like a very competitive industry. How do you stand out?
SL: Perseverance. So many times it seems it would be so much easier to just throw in the towel, but I have a point of view and the response has been so positive. I design each and every piece for myself. If I wear it, I know I have a customer that will too. I have a growing and rabid following, who swear they wear their Sandy Leong earrings, rings, necklaces, etc. every day. That is exactly how I intended my jewelry to be worn. I have a necklace that is a little 18k dewdrop on a very delicate chain that I wear every day, with everything. And I never leave the house without an easy pair of earrings like these.
DG: Aside from your own designs, what are some of your favorite pieces of jewelry, either ones that you own yourself or ones that you've seen?
SL: I'm currently obsessed with my husband's Rolex Oyster Perpetual Date. I had links taken out of so it fit my wrist. It's a nice complement to my more feminine pieces.
The DG Dozen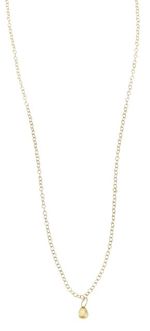 1) How do you define glamour? Glamour begins with self-confidence. It's an effortless way of being. Whether you're wearing jeans and a t-shirt or a fabulous ball gown, it's all about your attitude.
2) Who or what is your glamorous icon? Elizabeth Taylor, the early years, and Kate Middleton
3) Is glamour a luxury or a necessity? Glamour is a necessity. It's the allure of the excitement and adventure that makes life worth living.
4) Favorite glamorous movie? Breakfast at Tiffany's
5) What was your most glamorous moment? The Boys and Girls Aid Society's Black and White Ball. I had a fabulous dress by Pamela Dennis and Jimmy Choos, and felt like the belle of the ball.
6) Favorite glamorous object (car, accessory, electronic gadget, etc.)? Right now? My black Hermes Birkin bag! I feel glamorous just holding it.
7) Most glamorous place? Capri, Italy
8) Most glamorous job? 1960s American Airlines Flight Attendant
[9 and 10 skipped]
11) Can glamour survive? Of course it will. Where would we be without it? Everyone can use a little bit a glamour and magic in their life.
12) Is glamour something you're born with? I would say no, but my daughter who is 15 was born with it. She has an amazing sense of style and has so much self confidence that she's been turning heads since she was a baby. She can command a room and I don't know how I could teach that.
EITHER/OR
1) Paris or Venice? Venice
2) New York or Los Angeles? New York
3 Princess Diana or Princess Grace? Princess Grace
4) Tokyo or Kyoto? Tokyo
5) Boots or stilettos? Stiletto Boots!!
6) Art Deco or Art Nouveau? Art Deco
7) Jaguar or Astin Martin? Jaguar
8) Armani or Versace? Armani
9) Diana Vreeland or Anna Wintour? Anna Wintour
10) Champagne or single malt? Champagne
11) 1960s or 1980s? 1960s
12) Diamonds or pearls? Diamonds, duh!
13) Kate Moss or Naomi Campbell? Kate Moss
14) Sean Connery or Daniel Craig? Sean Connery
[Photos courtesy Sandy Leong.]