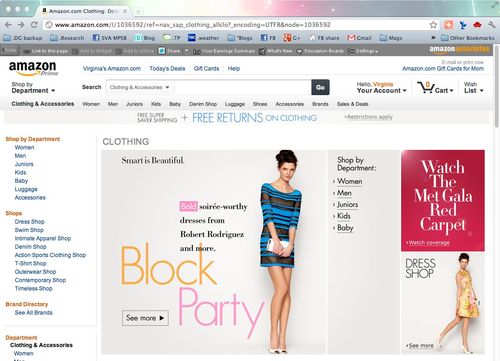 My latest Bloomberg View column suggests some ways Amazon might overcome fashionista skepticism about its plans to move beyond its traditional apparel offerings into higher-end fashion. Here's the opening:
When I caught Jeff Bezos's eye at the press preview for the Metropolitan Museum of Art's new Costume Institute exhibit, which Amazon.com Inc. sponsored, his face burst into an enormous smile. I'd like to think this was because the Amazon chief executive officer likes me so much. (We see each other socially on rare occasions.)

But I suspect he was mostly glad to see anyone he recognized. We were probably the only two people in the room who could tell you who Linus Torvalds is, or Myron Scholes: two nerds, however grown-up and pulled together, in a crowd of fashionistas.

Amazon is an unlikely sponsor for a Costume Institute event, and Bezos an exceedingly unlikely fashion advocate. "Before we got involved, this event wasn't on my radar at all," he said of the museum's celebrity-filled annual gala.

But his company is trying to get into high-end fashion retailing, and sponsoring the Met exhibit and the fashion world's party of the year is a good way to get attention. If nothing else, it gets Bezos and Vogue Editor-in-Chief Anna Wintour speaking on a first-name basis.

A cultural gap remains, however. "It could never be cool to shop for fashion at Amazon.com. Geek cooties will come attached to your clothes," an early commenter said about Monday's New York Times story on Amazon's foray into fine fashion. Another wrote, "Do you want to be cool or pay the lowest price? Your decision." The Times story ended with a jab at Bezos for not knowing the brand of his own shirt or shoes -- and for letting a tacky ID badge dangle from his Prada jeans.

Net-a-Porter has already demonstrated that you don't have to be a flash-sale site to sell high fashion online. So have the websites of department stores such as Neiman Marcus and Saks Fifth Avenue. In the specialized vintage market, so has 1stDibs. The problems of presentation and fit can be overcome.

The real question is the cultural one: How can a middle- brow company like Amazon become a credible source of fashion rather than merely apparel? Here are a few ideas the company might consider:
Read the rest on Bloomberg View. Shop Amazon Apparel
.