So What Is Your Next Book About?
I'm taking a year off from regular Bloomberg Opinion contributions to concentrate on finishing my next book by the hard deadline of September 30, 2019. In response to a Facebook post to this effect, several people asked what the book is about.
The short answer is that it's called The Fabric of Civilization and is about the history of textiles, technology, and trade or, as I sometimes put it, the history of textiles as the history of technology and trade.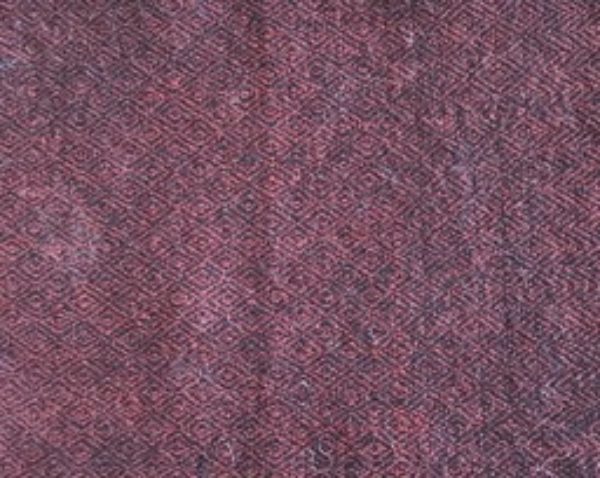 Here's a longer answer:
The story of technology is the story of textiles. From the most ancient times to the present, so too is the story of economic development and global exchange. The origins of chemistry lie in the coloring and finishing of cloth, the beginning of binary code—and perhaps mathematics itself—in weaving. The belt drive came from silk production. So did microbiology.

In ways both subtle and obvious, beautiful and terrible, ancient and modern, textiles made our world. But, to reverse Arthur C. Clarke's famous adage, any sufficiently familiar technology is indistinguishable from nature. It seems intuitive, obvious—so woven into the fabric of our lives that we take it for granted.

"The spindle was the first wheel," Elizabeth Wayland Barber tells me, gesturing to demonstrate. "It wasn't yet load-bearing, but the principle of rotation is there." A linguist by training and weaver by avocation, in the 1970s Barber started noticing footnotes about textiles scattered through the archaeological literature. She thought she'd spend nine months pulling together what was known. Her little project turned into a decades-long exploration that helped to turn textile archaeology into a full-blown field. Textile production, Barber writes, "is older than pottery or metallurgy and perhaps even than agriculture and stock-breeding."
The ancient Greeks worshiped Athena as the goddess of technē, the artifice of civilization. The word derives from the Indo-European word teks, meaning "to weave." The Greeks used the same word for two of their most important technologies, calling both the loom and the ship's mast histós. From the same root, they dubbed sails histía, literally the product of the loom. Athena was the giver and protector of both ships and weaving.
To weave is to devise, to invent—to contrive function and beauty from the simplest of elements. In The Odyssey, when Athena and Odysseus scheme, they "weave a plan." Fabric and fabricate share a common Latin root, fabrica: "something skillfully produced." Text and textile are similarly related, from the verb texere, to weave. Order comes from the Latin word for setting warp threads, ordior, as does the French word for computer, ordinateur. The French word métier, meaning a trade or craft, is also the word for loom.The Chinese word jī, which now means "machine," was the ancient word for loom; the word zuzhi, meaning "organization" or "arrange," is the word for weave, while chengji, meaning "achievement" or "result," originally meant twisting fibers together.
Cloth-making is a creative act, analogous to other creative acts. It is a sign of mastery and refinement, a mark of civilization. "Can we expect, that a government will be well modelled by a people, who know not how to make a spinning-wheel, or to employ a loom to advantage?" wrote the philosopher David Hume in 1742.
To Hume, the connection was obvious. The same creative ferment stimulating the period's great works of politics, philosophy, and literature was advancing textile technology. The year Hume's essay appeared, the first water-powered cotton-spinning mill opened in Northampton, its roller technology anticipating the refinements that would soon launch the Industrial Revolution. Before railroads or steel mills or automobiles, fortunes were made in textile technology.
In today's popular imagination, however, fabric belongs to the frivolous world of fashion, when it merits any attention at all. Even in the pages of Vogue, "wearable technology" means electronic gadgets awkwardly tricked out as accessories, not the soft stuff you wear against your skin—no matter how much brainpower went into producing it. When we imagine economic or technological progress we no longer think about cloth or the machines that make it.
Our textile amnesia is a side effect of abundance and industrial success. The more advanced a field is, the more blasé we are about its latest upgrades. A state-of-the-art raincoat, dress shirt, or pair of tights would amaze someone transported from the 1960s, but nowadays we just expect it to work. The incremental innovations that make hoodies breathable or extend the life of upholstery cushions are invisible. They don't grab public attention the way nylon stockings, aniline dyes, or Indian calicoes once did.
The Fabric of Civilization restores textiles to their central place in the human story. In so doing bridges the three cultures of science, the arts, and commerce. Among humanity's oldest and most important practical inventions as well as the spur to major technological developments, cloth is also one of our earliest and most ubiquitous expressions of aesthetic creativity and cultural and personal identity. It simultaneously embodies function, beauty, and meaning. Under contract with Basic Books in North America and Hachette in the U.K., The Fabric of Civilization has several interrelated goals:
1) To inspire wonder at the know-how and ingenuity embedded in everyday artifacts.
2) To heighten the appreciation for the central role textiles have played in human history, particularly the development of technology and commerce.
3) To use the history of textiles as a lens through which to examine significant developments in technology and commerce.
4) To bridge stereotypically masculine and feminine interests, making them accessible and interesting to male and female audiences alike.
5) To use the history of textiles to illustrate the connections between the solution of specific problems and far-reaching scientific, technological, economic, and social developments.
6) To highlight the work of contemporary researchers in a variety of disciplines, including archaeology, economic and social history, anthropology, evolutionary biology and plant genetics, and materials science.
7) To explore big themes such as relation between nature and artifice, trade and trust, or cultural exchange and innovation.
The Fabric of Civilization ranges throughout time and space, spanning the globe and going from prehistory to the near future. It gives readers a picture of textile production and exchange as a human, rather than female or western, endeavor. My on-site reporting has taken me to places ranging from Cusco, Peru, to Caraglio, Italy; Jefferson, Georgia, to Hangzhou, China; Manchester, England, to Emeryville, California
Chapters are organized thematically, with chronological organization within each rather than from chapter to chapter. Along with the chapter's overarching theme, in the first section of the book, on industry, each chapter focuses on a stage of production. The first chapter is on fiber and nature, the second on thread and work, and so forth. The second section of the book, on commerce, uses a similar structure, with groups of actors—traders, rulers, and buyers—instead of stages of production. The result is an ambitious yet entertaining work that, like the loom's warp and weft, weaves together many contrasting strands of human life: masculine and feminine, abstract and material, nature and artifice, culture and commerce, practicality and pleasure, continuity and change.
Chapter Outline
Introduction: Overview of the book's argument about the centrality of textiles in human history and our abundance-induced textile amnesia
I. Industry
Chapter One: Fiber/Nature
How humans have altered nature in pursuit of thread-making materials, from the String Age (aka Stone Age) to bioengineered silk.
Chapter Two: Thread/Work
Textiles take an enormous amount of thread to produce, which in turn requires extraordinary amounts of work. This chapter traces the evolution of technology and organization from ancient drop spinning to a contemporary textile mill.
Chapter Three: Cloth/Code
Many people know about the connections between modern computers and the Jacquard loom, with its punchcard patterns. But the connections between cloth-making, mathematics, and code go much further and deeper.
Chapter Four: Dye/Chemistry
How the quest for colored cloth has shaped the history of chemistry and trade, including the question of how to balance the beauty of dyes with their sometimes-noxious side effects.
II. Commerce
Chapter Five: Traders
How textiles, with their long-distance markets and long supply chain, led to institutions to enhance trust, manage risk, and maintain records.
Chapter Six: Rulers
Whether through military procurement, taxation, or trade protectionism, state power—and its limits—has shaped the history of textile production and exchange.
Chapter Seven: Buyers
Textiles as expressions of personal and cultural identity. This chapter uses textiles as a lens through which to examine questions of authenticity, appropriation, distinctiveness, and hybridization.
Chapter Eight: Innovators
A look at the next wave of textile innovation.
Update, 5/31/19: Chapters Six and Seven are merging under the title "Consumers."